Who Got Eliminated On Dancing with the Stars 2013 Last Night? Week 9
|
November 12, 2013 at 9:01 AM EDT
We are only two weeks away from the Dancing with the Stars Season 17 finals and the six couples danced their hearts out last night to remain in the competition, but another couple was sent home on DWTS 2013 last night, so who got eliminated on Dancing with the Stars 2013 last night? Find out the Week 9 results on DWTS Season 17 below in our Dancing with the Stars 2013 spoilers!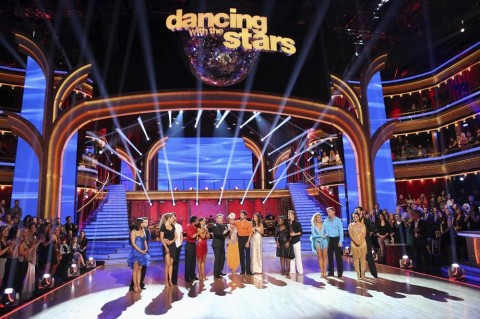 Last night on Dancing with the Stars Season 17, the couples each took on two routines: their new individual routine and then a trio performance where they brought in an eliminated pro dancer or troupe member to dance with them. The trio performances were very entertaining and overall, the night was a success.

Clearly it will be a battle between Corbin Bleu and Amber Riley to see who wins Dancing with the Stars 2013, but the other couples are holding strong. Jack Osbourne and Leah Remini are showing what the show is supposed to be about: stars with no dancing ability coming on and learning how to dance. Both Corbin and Amber have that experience, so they came in with an upper hand. Based on growth, you have to give it to Jack or Leah.
One of the couples that shocks me every week is Bill Engvall and Emma Slater. How they manage to survive the elimination every week is beyond me. They did it again last night, as we had another shocking elimination on DWTS 2013! Bill and Emma are entertaining, but he can't dance to save his butt. However, his fans keep voting him safe!
The victim of his fans this week: Elizabeth Berkley and Val Chmerkovskiy. Mind you, this is the same couple who got a 30 out of 30 on their trio performance and still got eliminated. Bill and Emma managed a 21 out of 30 on both their performances and had 14 fewer judges' points than Elizabeth and Val and were still safe???
What do you think of the results on Dancing with the Stars 2013 last night?
Join us on Reality Rewind for all your Dancing with the Stars 2013 spoilers, recaps, previews, videos, predictions and more! Subscribe to our Email and RSS or like us on Facebook and follow us on Twitter for all our latest updates.
SHARE YOUR THOUGHTS! LEAVE A COMMENT NOW:
Commenting Rules:
Keep the conversation civil and on topic. If your comment does not add to the conversation or is insulting to others, it will be removed. Debate intelligently. No ALL-CAPS.