Who Won The Knockout Rounds On The Voice USA 2013 Last Night? Night 2
|
October 30, 2013 at 8:01 AM EDT
The Knockout Rounds came to an end last night on The Voice USA Season 5 and the coaches (Adam Levine, CeeLo Green, Blake Shelton and Christina Aguilera) put the finishing touches on their teams for the Live Playoffs next week, so who won the Knockout Rounds on The Voice USA 2013 last night? Get the winners and details below in our The Voice USA 2013 spoilers!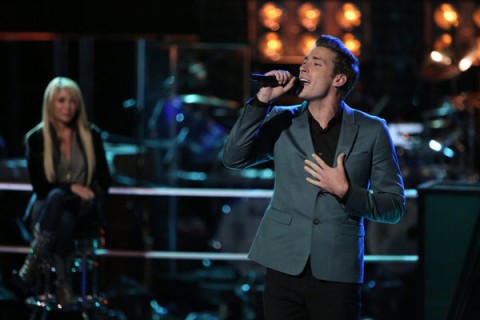 We got to see eight battles last night on The Voice 2013 and here are the results:
Team Adam – Preston Pohl beat Lina Gaudenza; no steals
Team Blake – Ray Boudreaux beat E.G. Daily; no steals
Team Christina – Jacquie Lee beat Anthony Paul; no steals
Team CeeLo – Tamara Chauniece beat Stephanie Anne Johnson; Christina wanted her back on her team and stole Stephanie Anne back for the Live Playoffs
Team Adam – James Wolpert beat Juhi; no steals
Team Blake – Austin Jenckes beat Brandon Chase; no steals
Team CeeLo – Caroline Pennell beat George Horga, Jr.; no steals
Team Adam – Matthew Schuler beat Will Champlin; Adam wanted him back on his team and stole Will back for the Live Playoffs
The producers added a new twist this season and gave the coaches one steal each for the Knockout Rounds. I find it cool that both Adam and Christina used their steal to get back one of their singers they did not pick during the Battle Rounds! After everything has been said and done, we have 20 singers left and the Live Playoffs taking place next week on Monday, Tuesday and results on Thursday!
What do you think of the coaches' decisions last night on The Voice USA 2013?
Join us tonight on Reality Rewind for our The Voice USA 2013 Recap. Let's watch together and see who went home on The Voice Season 5 tonight! Subscribe to our Email and RSS or like us on Facebook and follow us on Twitter for all our latest updates.
SHARE YOUR THOUGHTS! LEAVE A COMMENT NOW:
Commenting Rules:
Keep the conversation civil and on topic. If your comment does not add to the conversation or is insulting to others, it will be removed. Debate intelligently. No ALL-CAPS.