Who Won The Battle Rounds On The Voice USA 2014 Last Night? Night 1
|
March 18, 2014 at 8:01 AM EDT
We saw the Battles begin on The Voice 2014 last night and we had a great start to this new round on The Voice USA Season 6, but who won the Battle Rounds on The Voice USA 2014 last night? Check out who won and who was stolen on The Voice Season 6 last night below in our The Voice USA 2014 spoilers!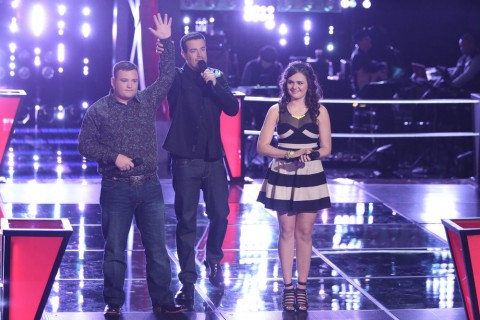 We got to see six battles last night on The Voice 2014 and here are the results:
Team Usher – T.J. Wilkins beat Biff Gore; Biff is stolen by Team Blake for the Knockout Rounds
Team Blake – Jake Worthington beat Lexi Luca; no steals
Team Shakira – Dani Moz beat DeShawn Washington; no steals
Team Adam – Kat Perkins beat Patrick Thomson; Patrick is stolen by Team Shakira for the Knockout Rounds
Team Blake – Sisaundra Lewis beat Paula DeAnda; no steals
Team Usher – Stevie Jo beat Jake Barker; Jake is stolen by Team Adam for the Knockout Rounds
Things got off to a great start last night and the pairings were actually very good. The coaches and mentors (The Band Perry for Team Blake, Jill Scott for Team Usher, Miranda Lambert for Team Shakira and Aloe Blacc for Team Adam) gave some great advice and it was fun seeing them interact with these artists. They picked some great songs and close battles, but I think the coaches picked the right choice in all of them except Stevie Jo. He is good, but I thought Usher would have picked Jake.
What do you think of the coaches' decisions last night on The Voice USA 2014?
Join us tonight on Reality Rewind for our The Voice USA 2014 Recap. Let's watch together and see who went home on The Voice Season 6 tonight! Subscribe to our Email and RSS or like us on Facebook and follow us on Twitter for all our latest updates.
SHARE YOUR THOUGHTS! LEAVE A COMMENT NOW:
Commenting Rules:
Keep the conversation civil and on topic. If your comment does not add to the conversation or is insulting to others, it will be removed. Debate intelligently. No ALL-CAPS.