The X Factor Season 2 Predictions: Who Goes Home From The Top 13?
|
November 8, 2012 at 1:05 PM EDT
The reigns were turned over to America last night on The X Factor Season 2 and tonight we find out who they sent home on The X Factor 2012. In a surprise, Simon Cowell announced that the judges discussed it and they pretty much think that Britney Spears screwed it up last week and Diamond White will be returning to The X Factor Season 2. That gives us a Top 13, which must go down to a Top 12 tonight. Check out my The X Factor Season 2 predictions below.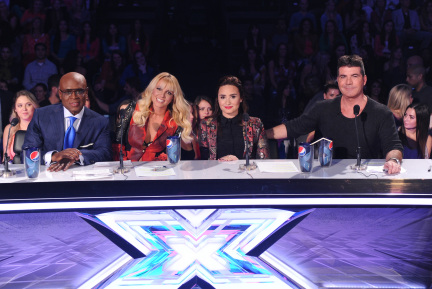 It is hard to do The X Factor Season 2 predictions this first week because I have no idea how America will vote. They always seem to baffle me with how they vote on American Idol, so I am not going to be surprised with how it goes down tonight. Thirteen singers took the stage, but only 12 will move on to next week.

Let me say the acts I think are definites: Carly Rose Sonenclar (she is cute and did amazing last night), Emblem3 (they are hot and the girls vote on these shows), Diamond White (I think America woke up on this one), Lyric 145 (they are entertaining and took on a Mary Poppins song), Tate Stevens (country singers always do well on these type of shows), Paige Thomas (lots of support out there and she flew during her performance) and Arin Ray (he is cute and even had me liking him last night).
That leaves us with six acts on The X Factor 2012: Beatrice Miller, Jenell Garcia, CeCe Frey, Vino Alan, Jason Brock and Fifth Harmony. This one is tough. Vino has not been that great the past few weeks, but he had a strong performance and I am thinking he will be safe. I think the queens will unite in San Francisco and send Jason to the Top 12. Beatrice had a good performance and I enjoy her voice, so I am keeping her safe. Jenell sucked it up last night, but I feel she will survive because she has been going this season.
So, I am down to CeCe Frey and Fifth Harmony in the bottom two on The X Factor USA. Fifth Harmony has never impressed me and I am so over them. I think Simon should have kept Sister C last week over them, but here we are. CeCe has been on a roller coaster ride this season and I hated her and now I like her. Her performance was not good at all last night, but Fifth Harmony bored me too. I don't think the girls are getting a lot of support out there and the constant name changes are going to hurt them. My The X Factor Season 2 predictions are sending Fifth Harmony home!
Who do you think will head home tonight on The X Factor 2012?
Join us on RealityRewind.com for all your The X Factor Season 2 news, recaps, previews and predictions. Subscribe to our Email and RSS or like us on Facebook and follow us on Twitter for all our latest updates.
SHARE YOUR THOUGHTS! LEAVE A COMMENT NOW:
Commenting Rules:
Keep the conversation civil and on topic. If your comment does not add to the conversation or is insulting to others, it will be removed. Debate intelligently. No ALL-CAPS.