The Voice Season 3: Nicholas David Top 8 Performance (VIDEO)
|
November 27, 2012 at 12:06 AM EDT
Nicholas David is the epitome of what The Voice Season 3 is all about and I am so glad to see America vote him in each and every week. This man has an amazing voice, but the look is not one you normally see in the music business. Nicholas David has a story that makes America love him on The Voice 2012 and Cee Lo Green is picking some great songs for him on The Voice Season 3, including his performance tonight of "What's Going On" by Marvin Gaye for The Voice Season 3 Top 8 live performances.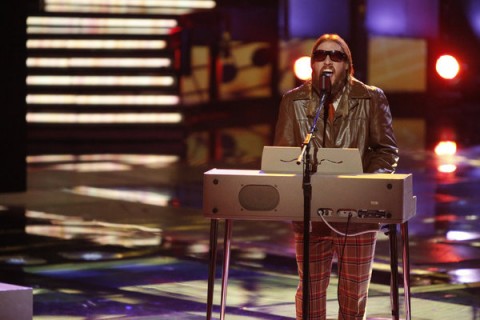 The point of The Voice is to find the next greatest voice and I think they may have found that in Nicholas David. It is all about the voice NBC says all the time and not the look and we all can see Nicholas David has his own look, but it totally goes with his voice and his vibe. He is a good guy that just spews soul. His voice just soothes you, or makes you want to get frisky with the one you love! You can check out the Nicholas David Top 8 performance on The Voice Season 3 below and tell me your thoughts!

I am rooting for Nicholas David to win it all this season. Not just because he has a great voice, but because he would be the poster child of what this show was created for. I think Cee Lo Green has built a strong team on The Voice 2012 and that shows, as he has three singers remaining with only eight singers left total.
Check out the performance below and who are you rooting for to win it all on The Voice Season 3?
Join us on RealityRewind.com for all your The Voice Season 3 news, recaps, previews and predictions. Subscribe to our Email and RSS or like us on Facebook and follow us on Twitter for all our latest updates.
SHARE YOUR THOUGHTS! LEAVE A COMMENT NOW:
Commenting Rules:
Keep the conversation civil and on topic. If your comment does not add to the conversation or is insulting to others, it will be removed. Debate intelligently. No ALL-CAPS.