Subscribe to Reality Rewind:
June 1, 2012
The Voice Adam Levine Moves On From Anne V Breakup With New Girlfriend, Fellow Model Behati Prinsloo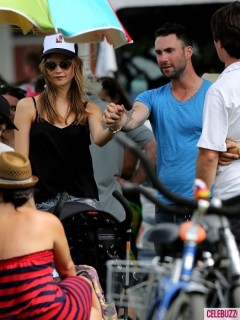 The Voice Adam Levine moves on from Anne V breakup with new girlfriend, fellow model Behati Prinsloo. Adam Levine might have already moved on from his Victoria's Secret model ex-girlfriend, Anne Vyalitsyna, by dating another model for the brand. Levine was photographed at Mustard Seed Café on Thursday in Los Angeles with Behati Prinsloo, 23, a Namibian model for Victoria's Secret.
The pair also was seen canoodling over Memorial Day Weekend. Adam Levine and his Victoria's Secret model ex-girlfriend might have split up in April but The Voice coach has apparently already moved on. Just Jared claims the two are a hot new item, saying "over Memorial Day weekend, the Maroon 5 frontman performed at the Tahiti Nui Bar in Hanalei, Hawaii.
"On his downtime, Adam was spotted holding hands with Behati, and also playing wiffle ball with his roommate, writer/actor/producer Gene Hong (also pictured at the Mustard Seed Cafe lunch)."