Subscribe to Reality Rewind:
May 8, 2012
The Voice 2012 Chris Mann Sings "You Raise Me Up", Brings Christina Aguilera To Tears, Video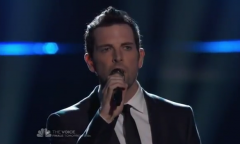 The Voice 2012 Chris Mann sings "You Raise Me Up", brings Christina Aguilera to tears, video below. Chris Mann stepped up to the microphone for the final time this season and performed on The Voice for tonight's show. The opera singer was one of the four contestants that made it to the finale and got to sing the last time to impress America in hopes for winning the competition.
Taking the stage, Chris Mann performed You Raise Me Up by Josh Groban. The final contestant for Team Christina, Chris Mann really poured on the vocals. With an atmosphere on stage that grabbed, and kept the attention of the audience, The Voice fans couldn't keep their eyes off the performance.The audience who loves Chris Mann, known as the Mann Fans, were already gathering for a good performance. The artist shared with his fans earlier in the day the song would be a song that the audience would know (and some would even sing along to.) Taking to Twitter, Mann only hinted what the audience might see.
"TONIGHT I'm so proud my performance on @NBCTheVoice will be def audience friendly," tweeted Chris Mann from his official Twitter account.