Subscribe to Reality Rewind:
June 1, 2012
The Bachelorette 2012 Intense Video Preview, Contestant Ryan Reveals Shocking Ulterior Motives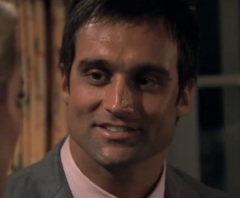 The Bachelorette 2012 intense video preview, contestant Ryan reveals shocking ulterior motives. Prepare to have your hopes of him and Emily Maynard riding off into the sunset dashed to pieces. In a sneak peek of Monday's episode, the former football pro reveals he has ulterior motives for being on the show.
After spewing gag-worthy words to Maynard about "loyalty" and her "admirable" qualities, Bowers tells the camera in a confessional, "God has blessed me in a lot of ways, so I'm really evaluating Emily." "I like what I see in her. I see that there's great potential, but to be very honest, I feel like I'm called to something bigger," the pro fitness trainer adds. Later in the show, Bowers admits to fellow contestant Michael, "When this whole thing is done [and] I'm involved with the media back home, I'm going to say 'Let's do The Bachelor: Ryan.' I would be ready to open my heart up and it would be great for everybody to see." Watch below.He observes, "Isn't it great when you're able to use a position like this?"