Subscribe to Reality Rewind:
June 4, 2012
Mila Kunis Shocked And Distracted At 2012 MTV Movie Awards, Video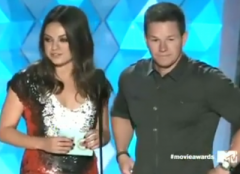 Mila Kunis shocked and distracted at MTV Movie Awards, video below. The actress and Mark Wahlberg were on stage to hand out the night's first honor (Best On-Screen Dirtbag) when a male audience member shouted something indecepiherable at Kunis.
While it's not clear who the heckler was (or what he said), it obviously distracted Kunis. "Really?" she asked in the direction of the yeller. Wahlberg, always the perfect mix of tough guy and gentleman, Wahlberg stepped in and said, "Excuse me? What did he say?"
Kunis tried to brush it off and insist that it didnt matter, but Wahlberg was not pleased, and responded with a bleeped out obscenity of his own before saying, "And here I thought I was going to have to slap Russell."
The actor talked to sources after the show and explained. "When I came onstage, some random heckler in the crowd said something vulgar to Mila. So that's why I got a little upset. I did say somebody was going to get slapped, but I figure it's Sunday, I went to church, I'm feeling forgiving right now" said Wahlberg.
He quickly apologized for the delay and moved on with his presentation of the award. The winner of the Dirtbag award went to Jennifer Aniston for her performance in Horrible Bosses.