Melissa Gilbert Suffers Concussion & Whiplash During Dancing With The Stars Routine
|
April 10, 2012 at 11:10 AM EDT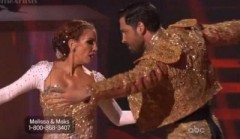 Melissa Gilbert suffers concussion & whiplash during Dancing With The Stars routine. Gilbert was rushed to the hospital Monday evening after injuring herself on Dancing with the Stars. The actress performed a paso doble routine with partner Maksim Chmerkovskiy last night and she was noticeably absent when the whole cast came out at the end of the show.
Host Tom Bergeron announced that Gilbert had gone to the hospital to get checked out, although the nature of her injury was not revealed until Gilbert herself tweeted an update. "I'm alright. Mild concussion and whiplash. Very soon I will be safely home resting and being taken care of," wrote Gilbert. She then expressed feeling towards her partner, writing, "@MaksimC you are my champion. I adore you. @GavinDeGraw bless your heart for carrying me down those stairs!"
Gilbert and Chmerkovskiy's performance to the White Stripes' "Conquest" was called their best of the season by the judges, earning them 22 points. The former Little House on the Prairie star gave no indication during or after the performance that she had hurt herself, but left for the hospital before the show ended.
SHARE YOUR THOUGHTS! LEAVE A COMMENT NOW:
Commenting Rules:
Keep the conversation civil and on topic. If your comment does not add to the conversation or is insulting to others, it will be removed. Debate intelligently. No ALL-CAPS.