Subscribe to Reality Rewind:
June 12, 2012
Maria Menounos Talks About Being Sexually Abused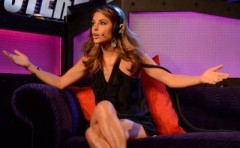 Maria Menounos talks about being sexually abused. Maria Menounos revealed on The Howard Stern Show on Monday that she has been the victim of sexual abuse. The former Dancing with the Stars contestant said she was "violated" several times by different doctors, which has left her with a phobia of physicians.
In one instance, Menounos recalled seeing a doctor for throat issues, but being forced to undress completely for the examination. The doctor then touched her genitals, she said. "I was really young, so I was so uncomfortable," Menounos explained, adding, "I literally started screaming… I was just so uncomfortable; I didn't know what to do."The Extra co-host, who declined to press charges, said she's also had other issues, including allegedly inappropriate gynecological exams. Menounos now has her boyfriend of 14 years, Kevin Undergaro, come into the room with her whenever she has to see a male doctor.