Lauren Conrad Poses Topless And Discusses Cellulite Criticism
|
April 3, 2012 at 1:32 PM EDT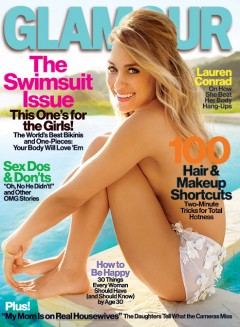 Lauren Conrad poses topless and discusses cellulite criticism. The former reality star turned fashion designer poses topless of the May issue of Glamour, revealing her seriously hot body in white bikini bottoms. Ironically, Conrad admits she's normally shy about showing off her body. Los Angeles ruined her self-esteem.
"On the vacation to Cabo, I wore a bathing suit on the beach for the first time in years. Usually I'm just petrified," she says. "A couple of years ago someone zoomed in on my cellulite and it was so mean. I took it really personally. I haven't worn a bathing suit in L.A. in years because of that."
Though the California native isn't planning a return to reality TV, she does spill some secrets about her time on The Hills and Laguna Beach. "During shooting, the producers would send us quick text messages telling us what to talk about. They couldn't walk through the shot, so they'd just text me, like, 'Say something quick about this story line.' That's why we were always checking our phones!"
Conrad tells Glamour that she doesn't keep in touch with many of her former costars. "The show is what brought a lot of us together, and when it was gone, we didn't have anything in common anymore."
Despite her fame, the bestselling author promises she's still the same girl she was before MTV made her a star. "The best way to stay grounded is to surround myself with friends and family who knew me way back when," Conrad says. "There's nothing like cleaning my mom's dishes or taking out the trash to remind me that I'm no different than anyone else."
SHARE YOUR THOUGHTS! LEAVE A COMMENT NOW:
Commenting Rules:
Keep the conversation civil and on topic. If your comment does not add to the conversation or is insulting to others, it will be removed. Debate intelligently. No ALL-CAPS.