Subscribe to Reality Rewind:
May 14, 2012
Kourtney "Kardashian Effect" Makes Mason The #2 Baby Name For Boys, Video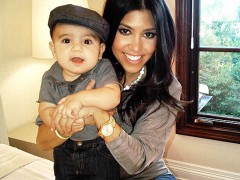 Kourtney "Kardashian Effect" makes Mason the #2 baby name for boys, video below. The Social Security Administration just released its annual Top Baby Names list for kids born in 2011 — and Kourtney Kardashian may have had a major impact. While Jacob remains the #1 boys name for the thirteenth straight year, Mason has shot all the way up to #2.
On the Today Show, Social Security commissioner Michael Astrue noted that the "Kardashian Effect" could account for the name's new popularity. Kourtney Kardashian, of course, named her son Mason in 2009. There's been "a lot of reality tv effect the last couple years," said Astrue.Al Roker asked, "Is that a little depressing to you?"
Astrue replied, "We try to stay neutral."