Subscribe to Reality Rewind:
June 5, 2012
Kanye West Says Kim Kardashian Is Much Better With Him Than Kris Humphries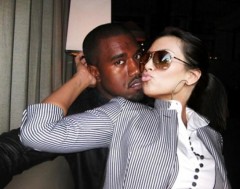 Kanye West says Kim Kardashian is much better with him than Kris Humphries. Kanye has always had a thing for Kim! He even told a friend he thought he'd be better for her than Kris Humphries, while she was dating Kris. HollywoodLife.com got the exclusive from a close friend of Kanye West.
"We've talked about Kim a few times and he's always spoken highly about her. He clearly likes and adores her," says our insider. "I remember once he joked to me about how bad [fierce] of a girl Kim was when she was with Kris but even then, my boy thought he would be better for her than Kris. Now when I look back on that conversation, I realize he wasn't joking. He was actually serious about wanting to be with Kim and have her in his life."In fact, Kanye's friend says Kim is probably the most special girl Kanye has ever has in his life. " "Kanye can get just about any broad he wants but I think it's more than just a 'broad' when it comes to Kim. She's beyond gorgeous. She's a smart businesswoman. She's talented and very kind. And let's not forget the girl's one hell of a entrepreneur! She's probably the best girl Kanye has had in his life. She's on a whole new damn level then any of the females he's messed with."
The source said the couple is just taking each day as it comes and not planning a wedding anytime soon. "Could she be the one? Who knows, it's a little too early for all that. I'm sure they're just enjoying each other right now and will take it one day at a time. But yeah, they've got my approval."