Subscribe to Reality Rewind:
July 12, 2012
Jennifer Lopez On Her American Idol Future: "Maybe It's Time For Me To Go", Watch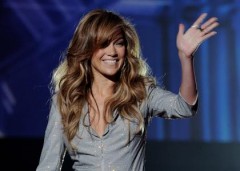 Jennifer Lopez on her American Idol future: "Maybe It's Time For Me To Go", watch below. While on Thursday's Today show to promote her appearance in Ice Age: Continental Drift, Lopez was asked about her future on the singing competition show. She said, "Maybe it's time for me to go."
Still, J. Lo clearly appeared torn. She told Natalie Morales, "It's a tough decision either way, but I have to say there are so many things I do that I put on hold for that," adding, "It's a heartbreaking decision if I'm gonna have to go." When pressed on whether she's already made up her mind not to return for a third season, Lopez replied, "Little by little I am."She went on to say, "I love everybody, I love all the guys [host Ryan Seacrest and judges Randy Jackson and Steven Tyler] on the show, I love the family that's there… but I am thinking that maybe it's time for me to go and do other things I really love to do," such as films and touring.
This summer Lopez is on tour with Enrique Iglesias. A number of people have been named as possible replacements in the past few days, including former American Idol runner-up Adam Lambert.