Jennifer Lopez Dance Again Video Bashed For Orgy Scene
|
April 10, 2012 at 11:18 AM EDT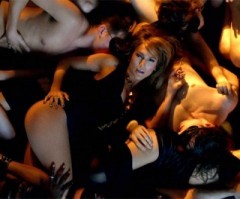 Jennifer Lopez Dance Again video bashed for orgy scene. Idol judge Lopez's risque "Dance Again" video has now earned itself some highly opinionated critics. The highly sexual music video premiered (in part) on American Idol on Thursday, featuring a half-naked Lopez and a similarly half-naked Casper Smart in an erotic dance.
The full clip, which Fox didn't air, features what appears to be a massive orgy and other in-your-face sexual behavior. All of that has the conservative-based Media Research Center's Culture Media Institute crying foul, targeting both Lopez and FOX in its criticism. "J-Lo's new orgy video is a typical example of why parents have found there are few family-friendly programs on TV," Dan Gainor, the group's vice president of business and culture, tells GossipCop.com.He adds, "If even 'American Idol' can't be trusted, is there anything appropriate for families anymore?"
Do you think the video is too racy or do you think kids have seen much worse?
SHARE YOUR THOUGHTS! LEAVE A COMMENT NOW:
Commenting Rules:
Keep the conversation civil and on topic. If your comment does not add to the conversation or is insulting to others, it will be removed. Debate intelligently. No ALL-CAPS.