Subscribe to Reality Rewind:
June 15, 2012
Emily Maynard On Kalon's Bachelor Pad: I'd "Stab My Eyeballs Out" Before Watching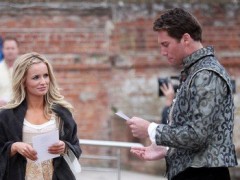 Emily Maynard on Kalon's Bachelor Pad: I'd "stab my eyeballs out" before watching. There's been no love lost between Emily Maynard and Kalon McMahon. McMahon is the infamous contestant from The Bachelorette who called Maynard's 6-year old daughter "baggage". That resulted in her before telling him to "get the f**k out!"
When it was announced Thursday that the luxury brand consultant would appear on the upcoming season of Bachelor Pad. Following the announcement, Maynard made it clear she will most definitely not be tuning in. "The fact Kalon will ever be on any tv again makes me want to stab my eyeballs out with dull pencils," she wrote on Twitter, adding, "Too much?"It's clear that Maynard has no regrets about sending home Kalon. Do you think her comments were too much? I think she has every right to voice her opinion about someone who had no problem giving his opinion about her daughter.