Subscribe to Reality Rewind:
October 30, 2012
Dancing with the Stars Results Show Live Recap: Week 6 All Stars Elimination
With two perfect scores last night on Dancing with the Stars All Stars, it just goes to prove that this is a strong season of dancers with the return of the All Stars. No one is safe every week, but tonight we find out who was eliminated on Dancing with the Stars All Stars. It is tough to say what will happen (i.e. Bristol Palin staying way past her time on the show), but with eight couples left on Dancing with the Stars 2012, it is anyone's game!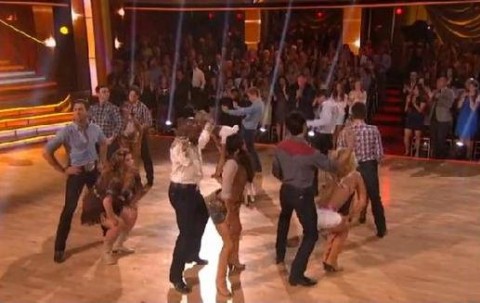 It was Country Night on DWTS All Stars last night and the All Stars had a hee-haw of a time and actually put on a good show. There were two perfect scores and a group freestyle dance ended the night with a bang. We saw performances by Little Big Town, Big & Rich and Cowboy Troy and all in all, it was a great night, but with a great night means bad news for someone that did very well!

Last week there was no elimination because of the Presidential Debate, so now with all the scores added up, one of the couple will be leaving us tonight on Dancing with the Stars All Stars. Which couple will it be? There will be a lot of time wasted before we find out, including a performance by Taylor Swift and the teams picking dances for each other for next week's performances. They will be fusing two styles of dance together into one performance, so watch out for that! Come back tonight for my Dancing with the Stars Results Show live recap!
Here we go…you ready? Spoilers ahead for Dancing with the Stars All Stars, so stop reading if you don't want to know who went home on DWTS!!!
We start out with Len Goodman saying that Apolo Anton Ohno and Karina Smirnoff danced to perfection and he wants to see it again, so they perform. Do you think this dance last night deserved a 30 out of 30?
Time to get to the first results of the night. We take a look back at last night for Kelly Monaco and Val Chmerkovskiy and Emmitt Smith and Cheryl Burke. They take the stage, being the lowest two scoring teams of last night. Emmitt and Cheryl are safe and Kelly and Val are safe!!! The lowest two teams are safe, so who is going home???
Time for our first special guest of the night on DWTS All Stars, as Jason Mraz takes the stage to sing his hit song "I Won't Give Up." For all you fans out there, we got to see Mark Ballas and Chelsie Hightower make a return to the dance floor. They danced while Jason sang and of course it was amazing. Too bad Mark was partnered with Bristol Palin this season!
Brooke Burke heads to talk to Kelly and Val, Sabrina and Louis and Shawn Johnson and Derek Hough. Kelly and Val is happy to be safe, Sabrina was sent home during her original season at this same week and it was a shocker, so she is nervous. Then the shocker, Derek hurt his vertebrae and will be taking a week off! Mark Ballas will fill in for him for the week! What do you think of that move? Will Derek come back?
Time for more results as Shawn and Derek, Gilles Marini and Peta Murgatroyd and Kirstie Alley and Maksim Chmerkovskiy take the stage, but of course commercial time! Tom Bergeron starts it off and Shawn and Derek are safe. Gilles and Peta have been the top scoring team on Dancing with the Stars All Stars all season and they are safe again. Next up, Kirstie and Maks and they have to be in the bottom right??? NOPE!!! They are safe, so the bottom five scores from last night are safe and the top three are in danger of going home!!!
It is time for the Macy's Stars of Dance performance and it is weird and intense, so of course I love it. What did you think of it?
Time for the teams to draw the dances the couples will perform next week on Dancing with the Stars All Stars. They will be performing fusion dances, which is combining two dances in one song. Kirstie and Maks pick for Melissa Rycroft and Tony Dovolani and they give them Tango/Cha Cha. Kelly and Val pick for Gilles and Peta and give them Argentine Tango/Samba. Emmitt and Cheryl pick for Sabrina and Louis and they give them Tango/Fox Trot. Apolo and Karina pick for Kirstie and Maks and they give them Quickstep/Samba. Melissa and Tony pick for Shawn and Derek (or Mark Ballas) and they give them Tango/Paso Doble. Shawn and Derek give Emmitt and Cheryl the Rumba/Samba. Sabrina and Louis give Kelly and Val the Cha Cha/Fox Trot. Gilles and Peta are left with Cha Cha/Paso Doble. Does this seem confusing to anyone else???
Now it is time for Taylor Swift to perform on Dancing with the Stars 2012 as she sings her hit song "We Are Never Ever Getting Back Together." How do you all feel about this song? Does she have to write a song for every guy that she dates, which is a lot of guys. Maybe she has issues?
Back to the results and it is down to the final three couples, which happened to be the judges' Top 3 couples: Apolo and Karina, Melissa and Tony and Sabrina and Louis. Both Apolo and Karina and Sabrina and Louis got perfect 30′s last night, so will a perfect score be headed home on Dancing with the Stars? 
First up is Melissa and Tony and they are safe! That means a perfect couple is going home tonight. With tensions high, Apolo and Karina are safe and Sabrina and Louis are headed home on Dancing with the Stars All Stars! That is a shocker and it is the same week she went home in her original season. Were you shocked?
Join us tonight on RealityRewind.com for my Dancing with the Stars All Stars results LIVE recap. Let's find out together who is eliminated on Dancing with the Stars All Stars.  Subscribe to our Email and RSS or like us on Facebook and follow us on Twitter for all our latest updates.