Dancing With The Stars Naughty Bits, Leggy Dresses, And The Artist References
|
March 27, 2012 at 1:56 AM EDT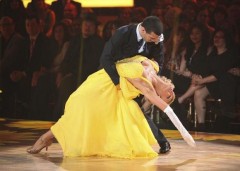 Dancing With The Stars naughty bits, leggy dresses, and The Artist references. The interesting cast of Season 14's Dancing With the Stars began to reveal its true colors in Week 2 — and Monday's results couldn't have been more varied. Katherine Jenkins, who wowed the judges in a sunny quickstep with partner Mark Ballas last week, opted to show off her wild side this time, donning a barely-there short dress and legs that went on for days.
The result? Head judge Len Goodman sniffed that the sexy groove wasn't quite his "cup of tea." But fellow judges Carrie Ann Inaba and Bruno Tonioli just couldn't get enough of the opera singer's "naughty bits." Sex appeal didn't seem to sell Goodman on Latin heartthrob William Levy, either, but it surely had the ladies in the room swooning long before his first smooth move in the quickstep.The hunky ballroom dancer was only rewarded with a 7 from Goodman, who pooh-poohed the performance as "good, but not great" — even as Tonioli drew comparisons between the stud and "The Artist" star Jean Dujardin. Compliment or snub?
On the less-impressive end of the spectrum, however, the judges were more in agreement. Tennis great Martina Navratilova's sloppy jive had the judges wincing; she came in slightly behind Melissa Gilbert and her lackluster quickstep.
But as the former "Little House on the Prairie" actress' low scores drew boos from the audience, she remained resolute, standing by her controversial partner, Maksim Chmerkovskiy. "It is what it is, and I love my partner," she said.
Tomorrow night will reveal whether American viewers and voters felt the same.
SHARE YOUR THOUGHTS! LEAVE A COMMENT NOW:
Commenting Rules:
Keep the conversation civil and on topic. If your comment does not add to the conversation or is insulting to others, it will be removed. Debate intelligently. No ALL-CAPS.