Dancing With The Stars Maria Menounos Earns Season's First Perfect Score, Video
|
May 1, 2012 at 1:26 AM EDT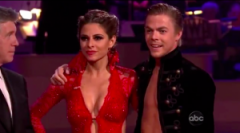 Dancing With The Stars Maria Menounos earns season's first perfect score, video below. Performing a paso doble to Prokofiev's "Montagues and Capulets," the two wowed the judges and the audience. Carrie Ann Inaba said, "That was amazing. You were so on fire."
Len Goodman added, "I loved it, Fantastic!" And Bruno Tonioli called Menounos, "The queen of the night," and said her dancing was "spellbinding." The Extra host dressed as a sexy vampire wearing fangs and lacy red dress. Menounos said the heated performance demonstrated the nature of her relationship with Hough. "He loves me but sometimes he wants to kill me," Menounos, 33, explained during rehearsal shedding some tears. Hough, 26, admitted, "I definitely get frustrated with Maria sometimes." But they used that dynamic to give a very strong performance that even ended with Menounos biting Hough's neck.
After the performance, Menounos said, "This has been the most amazing experience of my life…I love this man so much. That's all anybody needs to know. I love him so much."
SHARE YOUR THOUGHTS! LEAVE A COMMENT NOW:
Commenting Rules:
Keep the conversation civil and on topic. If your comment does not add to the conversation or is insulting to others, it will be removed. Debate intelligently. No ALL-CAPS.