Ben Flajnik's Rep Denies Cheating On Fiancee, Breakup Rumors
|
March 1, 2012 at 8:41 PM EDT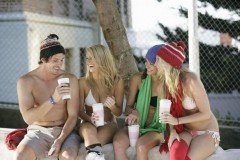 Ben Flajnik's rep denies cheating on fiancee, breakup rumors. UsWeekly reported and had a photo of Ben giving a kiss on the cheek to another woman. Although apparently, it was an innocent get together. A  rep for Ben says, "The photo is of two friends who have known each other for years and are all together in a social setting, surrounded by a group of friends."
"Ben Flajnik did not take any girls back to his apartment alone. It was a group setting every time. Ben has never cheated and does not condone cheating."
Another source close to Ben – who is barred from hanging out with the final rose winner, be it Lindzi Cox or Courtney Robertson – says he lives with two male roommates and the aforementioned girls may have been visiting them as well.
What do you think of the situation? Like us on Facebook by clicking here. Follow us on Twitter by clicking here.
SHARE YOUR THOUGHTS! LEAVE A COMMENT NOW:
Commenting Rules:
Keep the conversation civil and on topic. If your comment does not add to the conversation or is insulting to others, it will be removed. Debate intelligently. No ALL-CAPS.