Subscribe to Reality Rewind:
February 26, 2012
Academy Awards 2012 Jennifer Lopez Has Nipple Slip While Presenting With Cameron Diaz, Photo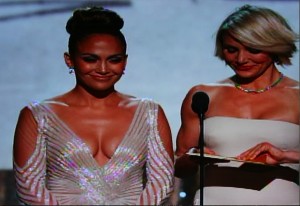 The American Idol host appears to have had a slight wardrobe malfunction while presenting the Academy Award for Best Costume Design. Ironic much?
Lopez's dress was so dangerously low-cut that it seems part of her left nipple was exposed while she stood at the podium alongside Cameron Diaz. There's no word or confirmation yet as of whether it was a shadow or possibly a piece of tape…but it pretty much looks like a nip slip to us? Hit the jump for a bigger image to see for yourself.