Who Won The Battle Rounds On The Voice USA 2013 Last Night? Night 2
|
October 16, 2013 at 8:01 AM EDT
The Battle Rounds on The Voice USA Season 5 continued last night and we got to see the results of six more battles on The Voice 2013, so who won the Battle Rounds on The Voice USA 2013 last night? Night 2 is behind us, so get the details below in our The Voice USA 2013 spoilers!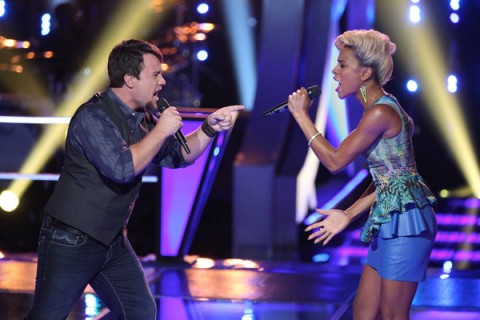 We got to see six battles last night on The Voice 2013 and here are the results:
Team Christina – Matthew Schuler beat Jacob Poole; no steals
Team CeeLo – Kat Robichaud beat R. Anthony; no steals
Team CeeLo – Cole Vosbury beat Lupe Carroll; no steals
Team Blake – E.G. Daily beat Sam Cerniglia; no steals
Team Adam – Ashley DuBose beat Justin Blake; no steals
Team Blake – Ray Boudreaux beat Monika Leigh; Monika is stolen by Team CeeLo for the Knockout Rounds
For the night, only one steal came into play. Adam Levine still have both of his steals in play. Christina Aguilera and CeeLo Green both have used one and have one still in play. Blake Shelton used both of his steals on Night 1, so no more steals for him this round!
For Night 2, I was a little disappointed in how they quickly went through three of the battles just to make up some time. How could they not show the battle for Ashley DuBose? She was one of the best blind auditions, but then her Battle Round is not even shown? What gives NBC? We saw a snippet of it, but I want more!!!
What do you think of the coaches' decisions last night on The Voice USA 2013?
Join us tonight on Reality Rewind for our The Voice USA 2013 Recap. Let's watch together and see who went home on The Voice Season 5 tonight! Subscribe to our Email and RSS or like us on Facebook and follow us on Twitter for all our latest updates.
SHARE YOUR THOUGHTS! LEAVE A COMMENT NOW:
Commenting Rules:
Keep the conversation civil and on topic. If your comment does not add to the conversation or is insulting to others, it will be removed. Debate intelligently. No ALL-CAPS.