Who Won Face Off 2013 Season 4 Last Night?
|
March 27, 2013 at 10:02 AM EDT
It was a huge moment last night on Face Off Season 4, as Kris, Anthony and Wayne competed in the Face Off 2013 Finale for a chance to be named the winner of Season 4, but who won Face Off 2013 Season 4 last night? Those Face Off 2013 spoilers are below, but believe me when I say all three of them created awesome looks for the Face Off Season 4 Finale!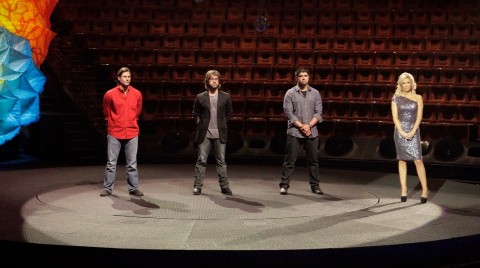 I think Face Off is such a cool show and one that is completely different from other shows on TV. What these people can do each week is amazing, especially what these three guys did last night on Face Off 2013!

The three guys were responsible for a new pairing for "Le Reve The Dream" at the Wynn Resort in Las Vegas. It is a high-flying/aquatic show and the looks they created had to be waterproof, which was even more pressure for the finalists!
The judges loved all three of the looks, but they talked it out and they announced that Anthony was the winner of Face Off 2013 Season 4!
Do you agree with the judges decision last night on Face Off 2013?
Join us on Reality Rewind for all your Face Off 2013 spoilers, news, previews and more! Subscribe to our Email and RSS or like us on Facebook and follow us on Twitter for all our latest updates.
SHARE YOUR THOUGHTS! LEAVE A COMMENT NOW:
Commenting Rules:
Keep the conversation civil and on topic. If your comment does not add to the conversation or is insulting to others, it will be removed. Debate intelligently. No ALL-CAPS.