Who Went Home On The Voice USA Season 4 Last Night? Top 8
|
May 29, 2013 at 8:01 AM EDT
It was a shocking elimination last night on The Voice 2013, as we saw two amazing singers voted off the show, but who went home on The Voice USA Season 4 last night? You may be surprised, as was I, but find out who in our The Voice USA Season 4 spoilers below and see who made the Top 6 on The Voice USA 2013!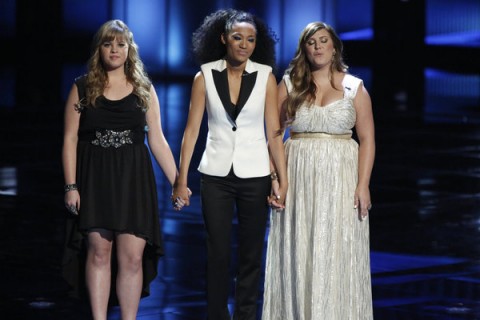 I understand that there are only eight acts remaining, but the two singers that did go home were not the ones I was expecting! Here are your The Voice 2013 Top 6:

Amber Carrington from Team Adam

Danielle Bradbery from Team Blake
Holly Tucker from Team Blake
The Swon Brothers from Team Blake
Sasha Allen from Team Shakira
Michelle Chamuel from Team Usher
If you put two and two together, that means that Sarah Simmons and Judith Hill were voted off The Voice Season 4 last night!!! I am shocked, as I am sure Adam Levine was as well. So many people thought he had the strongest team this season, but then he loses two singers in one night?!?!?

Blake Shelton is going strong with three acts remaining, so can he win for the third season in a row? Who did you think would go home last night on The Voice 2013?
Join us on Reality Rewind for all your The Voice USA Season 4 spoilers, recaps, news, videos, predictions and more! Subscribe to our Email and RSS or like us on Facebook and follow us on Twitter for all our latest updates.
SHARE YOUR THOUGHTS! LEAVE A COMMENT NOW:
Commenting Rules:
Keep the conversation civil and on topic. If your comment does not add to the conversation or is insulting to others, it will be removed. Debate intelligently. No ALL-CAPS.