Who Went Home On The Bachelor 2014 Last Night? Episode 7
|
February 18, 2014 at 8:01 AM EDT
When all was said and done, we found out the final four women on The Bachelor Juan Pablo 2014, but that was after two hours of some dramatic footage of the ladies and Juan Pablo in Miami, but who went home on The Bachelor 2014 last night? Find out those results on The Bachelor Juan Pablo 2014 last night below in our The Bachelor Juan Pablo 2014 spoilers!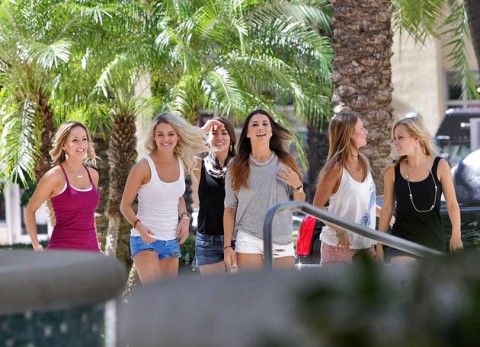 Last night on The Bachelor 2014, things kicked off in Miami with the first one-on-one date for Juan Pablo and it was with Sharleen Joynt. Heading into the time in Miami, Sharleen wasn't sure where she stood on things with Juan Pablo and if she wanted to remain on the show. This week in Miami was going to determine where she stood with him and where her feelings were at.

Even after a successful one-on-one date and the two of them doing a lot of making out and Sharleen saying her heart flickers when with him, she just wasn't ready to bring him home to meet her family or make it even further in the show and face a possible proposal. She didn't know if three weeks would be enough time for those feelings to grow to that point, so instead she eliminated herself from The Bachelor Season 18!
That left five women fighting for the four roses. We saw some drama between Nikki and Clare, but they both got a rose and the drama should continue at another time. Despite his many tears after sending her home, Juan Pablo eliminated Chelsie Webster also, leaving him with Nikki, Clare, Renee and Andi in the final four!
What do you think of the results on The Bachelor Season 18 last night?
Join us on Reality Rewind for all your The Bachelor Juan Pablo 2014 spoilers, news, previews, recaps, videos and much more. Subscribe to our Email and RSS or like us on Facebook and follow us on Twitter for all our latest updates.
SHARE YOUR THOUGHTS! LEAVE A COMMENT NOW:
Commenting Rules:
Keep the conversation civil and on topic. If your comment does not add to the conversation or is insulting to others, it will be removed. Debate intelligently. No ALL-CAPS.