Who Went Home On Survivor 2014 Last Night? Premiere
|
February 27, 2014 at 9:01 AM EDT
The premiere of Survivor Cagayan 2014 kicked off with a bang, as we saw Brain, Beauty and Brawn Tribes take on each other and see which quality was stronger than the other, so who went home on Survivor 2014 last night? Find out the results on Survivor Season 18 last night below in our Survivor 2014 spoilers!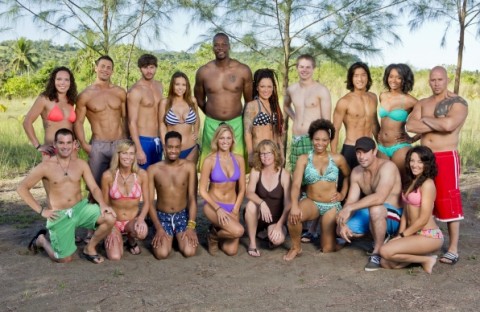 Last night on Survivor Cagayan 2014, the new castaways on Survivor 2014 arrived on the island and found out they were separated into the three qualities needed to win the game: brains, beauty and brawn. Heading into the premiere, you would think the Brains Tribe would have an advantage because they have the smarts to do the right thing. As it turns out, that is not the case and the Brains Tribe is in some serious trouble after Week 1 on Survivor Season 28!

For the two-hour premiere, we had two Tribal Councils. At the first one, we saw the Brains Tribe head there after getting trampled on at the Immunity Challenge. David was trying to play the leader of the tribe and calling the shots of sending home J'Tia. Well, the other tribe members weren't keen on the idea and thought David was a threat, so they blindsided him and he was voted off and sent back to the Miami Marlins.
The second Immunity Challenge saw the Brains Tribe take a big lead, but then they lost it all when J'Tia could not complete the puzzle and they found themselves going to Tribal Council again! Garrett wanted to have an open forum back at camp and everyone discuss their votes. The others thought it was a stupid idea, which it was. At Tribal Council, he thought (and it should have been) J'Tia going home, but he could not keep his mouth shut and ruined his own game and Garret was voted off Survivor 2014 last night!
What do you think of the eliminations on Survivor 2014 last night?
Join us next week on Reality Rewind for our Survivor 2014 Recap. Let's watch together and see who got eliminated on Survivor Season 28! Subscribe to our Email and RSS or like us on Facebook and follow us on Twitter for all our latest updates.
SHARE YOUR THOUGHTS! LEAVE A COMMENT NOW:
Commenting Rules:
Keep the conversation civil and on topic. If your comment does not add to the conversation or is insulting to others, it will be removed. Debate intelligently. No ALL-CAPS.