Who Was Voted Off The Voice USA 2013 Last Night? Top 20
|
November 8, 2013 at 8:01 AM EDT
America got the chance to vote for their favorite acts on The Voice USA Season 5 and the results on The Voice 2013 were revealed last night and we all want to know who was voted off The Voice USA 2013 last night? Check out the result for the Top 20 on The Voice Season 5 below in our The Voice USA 2013 spoilers!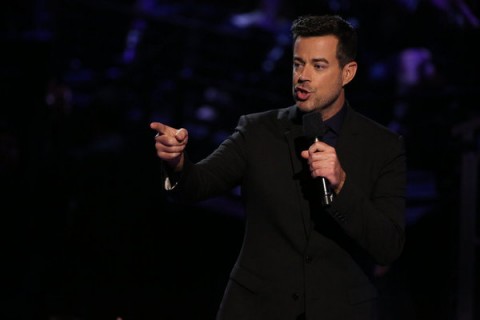 Last night on The Voice 2013, the night was pretty simple and moved along very nicely. Each of the teams performed together and then the results were read for that team. The top two vote-getters from each team was saved by America. Of the final three singers remaining, the coach got to save one of them. That means the other two singers were headed home!

Here is how the results went for each team, which may look exactly like I said it would go in my predictions yesterday:
TEAM BLAKE
Austin Jenckes
Cole Vosbury
Ray Boudreaux – Coach Save
Shelbie Z. – Eliminated
Nic Hawk – Eliminated
TEAM CEELO
Caroline Pennell
Jonny Gray
Kat Robichaud – Coach Save
Amber Nicole – Eliminated
Tamara Chauniece – Eliminated
TEAM CHRISTINA
Jacquie Lee
Matthew Schuler
Josh Logan – Coach Save
Stephanie Anne Johnson – Eliminated
Olivia Henken – Eliminated
TEAM ADAM
James Wolpert
Tessanne Chin
Will Champlin – Coach Save
Grey – Eliminated
Preston Pohl – Eliminated
Obviously since this is the exact way I predicted it, I am not shocked by these results. I was torn between Adam taking Will or Preston, which he seemed to struggle with too. Then I was not sure about Christina and which singer she would take, but she seems to have this connection with Josh and I was right!
What do you think of the results on The Voice USA 2013 last night?
Join us on Reality Rewind for all your The Voice USA 2013 spoilers, recaps, predictions, videos, previews, news and much more! Subscribe to our Email and RSS or like us on Facebook and follow us on Twitter for all our latest updates.
SHARE YOUR THOUGHTS! LEAVE A COMMENT NOW:
Commenting Rules:
Keep the conversation civil and on topic. If your comment does not add to the conversation or is insulting to others, it will be removed. Debate intelligently. No ALL-CAPS.