Who Was Eliminated On Top Chef Seattle 2013 Tonight?
|
January 30, 2013 at 11:15 PM EDT
The Top 5 on Top Chef Seattle 2013 took their talents aboard a cruise this week and headed to Alaska. While Seattle was fun for them, it is now time to work their way to the Top Chef 2013 Season 10 Finale! While they are enjoying a lot of down time and relaxation, they are still there to work on Top Chef 2013. So, who was eliminated on Top Chef Seattle?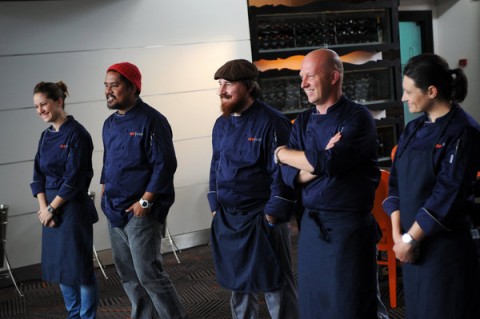 The cheftestants had to recreate Surf & Turf dishes for the guests on the cruise. It seems simple, but they had to be fun and creative with their dishes and not the normal, boring Surf & Turf dishes.

While the chefs seemed to come up with some interesting dishes, it was a struggle for Sheldon to get away from the old-school Surf & Turf and make a fun, re-imagined dish and Stefan overcooked his pork, which had the judges worried they might crack a tooth! In the end, Stefan was eliminated on Top Chef 2013! All the returning chefs have been eliminated now!
Who did you want to go home on Top Chef Seattle?
Join us on RealityRewind.com for all your Top Chef Seattle 2013 news, eliminations, previews and predicitons. Find out with us who was eliminated on Top Chef Season 10! Subscribe to our Email and RSS or like us on Facebook and follow us on Twitter for all our latest updates.
SHARE YOUR THOUGHTS! LEAVE A COMMENT NOW:
Commenting Rules:
Keep the conversation civil and on topic. If your comment does not add to the conversation or is insulting to others, it will be removed. Debate intelligently. No ALL-CAPS.