Who Got Eliminated On The X Factor USA 2013 Last Night? Top 16
|
October 30, 2013 at 8:01 AM EDT
After a couple weeks off, we finally got to see the Top 16 on The X Factor Season 3 take the stage for the live shows and perform for their mentors in hopes of moving on to the Top 12 and perform for our votes next week on The X Factor 2013, so who got eliminated on The X Factor USA 2013 last night? Find out the results on The X Factor 2013 last night in our The X Factor USA 2013 spoilers that follow!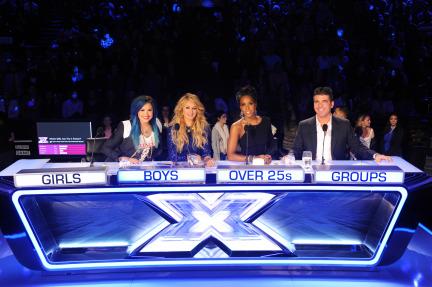 Last night on The X Factor USA Season 3, the four acts in each category performed for their mentors one more time, but only three of them would move on to the live shows next week and perform for our votes! Here are the four acts that were eliminated:
Danie Geimer
Josh Levi
James Kenney
RoXxy Montana
With that being said, the Top 12 on The X Factor USA 2013 and their categories are as follows:
Girls – Ellona Santiago, Rion Paige and Khaya Cohen
Boys – Carlos Guevara, Carlito Olivero and Tim Olstad
Over 25s – Lillie McCloud, Rachel Potter and Jeff Gutt
Groups – Restless Road, Alex & Sierra and Sweet Suspense
I am glad that the voting finally turns over to America next week. Is it just me or do these judges seem way up these acts' butts? No matter what they do, they only have nice things to say and everyone is a pop star and just what this show needs. What this show needs is some ratings and some judges that will tell it like it is! I was excited for Paulina Rubio this season, yet she seems like another Britney Spears and says the same critique every time….ugh!
Anyway, what do you think of the judges' decision last night on The X Factor USA 2013?
Join us on Reality Rewind for all your The X Factor USA 2013 spoilers, videos, recaps, news, predictions, previews and much more! Subscribe to our Email and RSS or like us on Facebook and follow us on Twitter for all our latest updates.
SHARE YOUR THOUGHTS! LEAVE A COMMENT NOW:
Commenting Rules:
Keep the conversation civil and on topic. If your comment does not add to the conversation or is insulting to others, it will be removed. Debate intelligently. No ALL-CAPS.