Transgender Miss Universe Contesant Jenna Talackova Battles Donald Trump, Video
|
April 9, 2012 at 1:11 PM EDT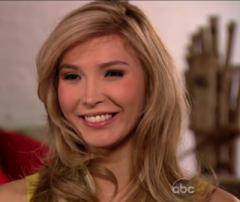 Transgender Miss Universe contestant Jenna Talackova battles Donald Trump, video below. Jenna Talackova is a transgender beauty pageant contestant who recently found herself surrounded in controversy when she was booted from, and then reinstated to, the Miss Universe Canada competition. On Friday, she gave her first interview about the situation to Barbara Walters on 20/20.
Talackova was born as a boy (named Walter) but felt she was "in the wrong body," underwent hormone therapy in her teens, and eventually had gender reassignment surgery to become the striking woman now known as Jenna. But even though she lives as a woman and is recognized by the Canadian government as such, Miss Universe organizers tried to disqualify Talackova on the grounds that she's not a "naturally born female." Talackova (and her attorney Gloria Allred) believe that the rule is "blatantly discriminatory."Miss Universe boss Donald Trump initially balked at Talackova's claims, then reversed the competition's policy on transgender competitors, allowing her to compete. But he also seems to believe that she could have what Trump calls an "ulterior motive." The 20/20 segment is compelling and definitely worth a look.
SHARE YOUR THOUGHTS! LEAVE A COMMENT NOW:
Commenting Rules:
Keep the conversation civil and on topic. If your comment does not add to the conversation or is insulting to others, it will be removed. Debate intelligently. No ALL-CAPS.