Top Chef Seattle Recap: Episode 9 – A Blast From The Past
|
January 3, 2013 at 3:30 PM EDT
It is all about celebrating the past tonight on Top Chef Seattle as the chefs take on some of the most memorable dishes from the past ten seasons on Top Chef. There will be some familiar faces that return to the mix tonight as judges, so it should be an interesting episode. The chefs will be testing this knife skills in the Quickfire Challenge on Top Chef 2012 and then take on old dishes in the Elimination Challenge, but two chefs will be cooking for survival on Top Chef Season 10!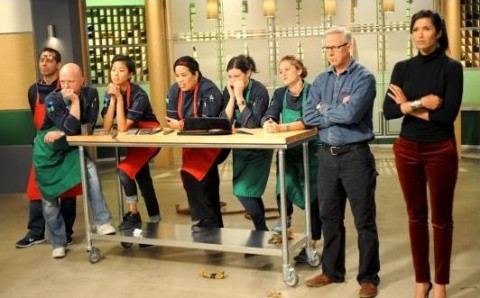 The competition is down to nine people and we see Sheldon sharpening his knives, which is a nice little way to give a preview of the Quickfire Challenge tonight on Top Chef 2013. The chefs head out to meet Padma Lakshmi, who is standing with guest judge and Master Bladesmith Bob Kramer in the Top Chef Seattle Kitchen. He makes custom knives, which sell for $500/inch! Sheldon said he would die for a Bob Kramer knife!

The Quickfire Challenge will consist of three rounds and the chefs will be in teams of three. The first round will be testing their sharpening skills, so Sheldon should do good, right? They must turn dull knives into razor-sharp knives. The first two teams done will move on to round two, which tests precision. They must tourne 50 potatoes into a specific shape and the first team done moves on. The final round will have the team competing against each other and they must break down two racks of rabbits. The first chef done wins immunity and a Bob Kramer blade!
The chefs draw knives for teams and it will be Red Team (John, Kristen and Josie), Blue Team (Josh, Sheldon and Micah) and Green Team (Stefan, Lizzie and Brooke). For the first challenge, all three chefs must be able to cut through a piece of paper with their knife to move on. If any member of their team even knicks themselves with the knife, then they are eliminated…so, they have to be quick and careful with the knives.
They get started on the sharpening on Top Chef Seattle and Green Team thinks they are ready and Bob and Padma come over for the test. Stefan and Lizzie pass the test, but Brooke fails and she must sharpen it even more. John calls check for Red Team, but Kristen doesn't think her knife is sharp enough. Amazingly, both Josie and Kristen cut through the paper and John fails. He sharpens again and gets checked and passes it this time, so Red Team moves on. Blue Team calls for a check and they all pass the test, so Green Team is out of the Quickfire Challenge.
Round 2: tourne those potatoes. John claims he grew up in a French restaurant and tourned potatoes every day, but with a paring knife not a chef's knife, so another excuse for him. Josie, of course, cuts herself with the knife and she is disqualified and Red Team must go on without her. John goes into overdrive trying to get the 50 done, but Blue Team asks for a check first. They pass the test and the Red Team loses by two potatoes even though they were down a chef!
For the final round on Top Chef Season 10, the chefs start cutting up the rabbit. Sheldon has no clue how to do it, but Josh thinks he might have it down. Micah has a zen moment with breaking down the rabbit and he gets done first and wins immunity and the Bob Kramer knife.
Now to find out what the Elimination Challenge is for tonight, which is taking the chefs down memory lane. Each chef will be assigned a memorable moment from the past ten seasons and they will cook a dish relating to that moment. The winning dish will help inspire a new Healthy Choice Top Chef Cafe Steamer, so it needs to be a healthier version of their dish. The chef that makes the best dish wins $15,000.
The chefs all get a Kindle Fire to find out what season and moment they have, but Padma keeps one Kindle Fire with the memorable moment for Top Chef Season 10, which we will find out about later. The chefs get their moments and head out to do some shopping for their dishes the next day. Lizzie gets a scallop dish, which are healthy naturally, so she feels this is going to be easy for her.
The next day arrives and the chefs start cooking for the Top Chef super fans. John is making risotto and needs a flat-leveled pan, but can't find one and says he will have to manage without it. Kristen has to make a chicken pot pie, which is hard to make a healthier version of. Josh is working with pork again, which he has struggled with this season, so he is hoping to prove himself tonight. Josie claims she teaches people to eat healthier at home, so this is right up her alley. Brooke went through a heavier period in her life, so now she makes it a point to make healthier dishes. Lizzie gets her scallops and they do not smell fresh, so she is worried on what she is going to do now!
The Super Fans and judges arrive to start tasting what the Top Chef Seattle chefs have come up with tonight. The judges tonight are Padma, Tom Colicchio, Wolfgang Puck and culinary experts Wylie Dufresne, Jonathan Waxman and Chris Cosentino. John feels risotto is not hard to cook, but a difficult dish on Top Chef. He called it the Curse of the Risotto. Time runs out and the dishes come out for tasting.
Josie had Season 1 and made Herb-Roasted Chicken with Parsnip Puree and Steamed Root Vegetables. Stefan had Season 2 and made Roasted Red Pepper Soup with Bacon and Grilled Mimolette Cheese Sandwich. John had Season 3 and made Umami Risotto with Chicken, Salmon Roe, Burdock Root and Carrot Emulsion. For Josie, Wylie said she roasted the chicken very nicely, but the skin could of had more crunch. Jonathan said it is not exciting. For Stefan, Chris said his grilled cheese is very rich and you can see the fat content on the plate. Wylie said it is greasy, but the soup is nice and has a kick to it. For John, Padma said she is not a fan of his risotto and Wylie said he didn't finish cooking the rice. Wolfgang said some of the rice is overcooked and some of it is undercooked.
Sheldon had Season 4 and made Beef Carpaccio with Poi Aioli, Mizuna and Mushroom Salad and Silken Tofu Foam. Lizzie had Season 5 and made Seared Scallops with Roasted Fennel, Garlic Puree, Orange and Olive Salad. Josh had Season 6 and made Soy-Glazed Pork Tenderloin with Smoked Cashew Puree and Heirloom Peaches. For Josh, Wolfgang said he cooked the pork perfectly and Tom said the peaches and the cashews are a good combo. For Sheldon, Chris said it is not eye-appealing at all. Wylie said the tofu had no flavor. For Lizzie, Wolfgang said the scallop is a little dubious. Tom said his is not cooked well.
Brooke had Season 7 and made Smoked Salmon, Forbidden Black Rice with English Pea and Parsnip Puree. Kristen had Season 8 and made Poached Chicken Breast, Carrot Puree with Garlic and Tofu Emulsion. Micah had Season 9 and made Five-Spiced Duck Breast with Miso Polenta and Pickled Cherries. For Micah, Tom thought he cooked the duck very well. Jonathan thinks the miso and polenta combination is not good. For Kristen, Tom said she did a very good job with the dish and it is light and has a lot of flavor. Jonathan said it is a great version of a pot pie. Chris said his plate didn't have the sauces that everyone had. For Brooke, Padma said it is a healthy dish and Tom said she did a great job of making it a healthier dish and put together well.
Time for the Judges' Table on Top Chef Season 10 and Padma comes in and asks to see Josh, John, Kristen. Lizzie and Brooke. They are confused on why the judges would take in five, but we will find out. These five served the best and worst dishes. Josh, Brooke and Kristen served the best dishes, so either John or Lizzie will go home! The judges discuss the three best dishes, but in the end Kristen wins the challenge and the $15,000!
Now it is down to John and Lizzie: John had improperly cooked rice, which he said there is not one leveled-pot to make the risotto. Lizzie did not have fresh scallops, so she couldn't sear them. Here comes the twist: that tenth Kindle Fire that Padma had has the memorable moment from Season 10 and they will cook-off right now to stay in the competition! The dish is CJ's burger he made with the Spicy Dill Pickle. They have 45 minutes to make a healthier version of the dish.
John is pissed because he didn't have a pot to cook his risotto in properly, but Lizzie served bad scallops and is getting a second chance. John takes all the dill that Lizzie had taken out for herself, so she is pissed. He says he shared the pickles with her and was nice about it and he is sick of her. Aren't we all just sick of John on Top Chef 2013?
John made a Lamb Burger with Fried Egg and Spicy Pickle, Tomato and Pomegranate Salad and Lizzie made a Chicken Burger with Goat Cheese Ricotta and Dill Pickle Roasted Red Pepper Salad. For John, Chris asked why he would put an egg on the burger when he was making a lean dish. Wolfgang said the lamb was overcooked for him. For Lizzie, Wolfgang said it is very moist. Chris likes the salad, but he would have liked just a wisp of salt. Tom said they have put together two nice dishes.
Time for the judges decision on Top Chef Season 10. They all think that Lizzie made a better patty and she is staying, so John is going home! He thinks he got the shaft today and he is not bitter, but it is bullshit! Do you agree with the judges' choice on Top Chef Seattle. 
On Top Chef: Last Chance Kitchen, CJ is still holding strong and now will take on John. Which of those two will win?
Join us on RealityRewind.com for my Top Chef Seattle recaps. Let's find out together who was eliminated on Top Chef Season 10! Subscribe to our Email and RSS or like us on Facebook and follow us on Twitter for all our latest updates.
SHARE YOUR THOUGHTS! LEAVE A COMMENT NOW:
Commenting Rules:
Keep the conversation civil and on topic. If your comment does not add to the conversation or is insulting to others, it will be removed. Debate intelligently. No ALL-CAPS.