Top Chef Seattle Recap: Episode 6 – Even The Famous Come Home
|
December 12, 2012 at 9:30 PM EDT
The chefs can only get better this week on Top Chef Seattle, as we saw head judge Tom Colicchio get pissed off during the tasting and take away the prize for the winner and eliminate two chefs during the double elimination. Things have to get better for the cheftestants tonight on Top Chef Season 10, right? One would think, but you never know when it comes to Top Chef 2012. Things will get interesting tonight, so you won't want to miss a thing during my Top Chef Seattle recap!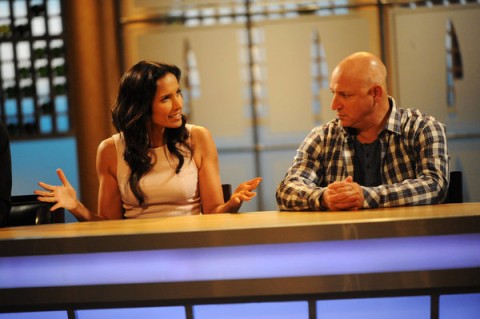 It was all about team work last week on Top Chef Seattle, as the cheftestants partnered up for the Quickfire Challenge and then stuck with those same partners for the Elimination Challenge. They had to make breakfast on a stick for some farmer's market vendors and then use rare ingredients to make stellar dishes for the judges. They all failed miserably and in the end we saw two more chefs hit the road and head to Top Chef: Last Chance Kitchen.

Tonight we get to find out who is surviving in Last Chance Kitchen and then it is all about sharing tonight, as the 12 remaining cheftestants must create dishes that represent their heritage, but with a twist. All 12 of the chefs will be sharing one knife, so I guess you better prepare yourself when you want to cut things! For the Elimination Challenge, the chefs will be cooking a menu for a Hollywood couple: Anna Faris and Chris Pratt. It will be a dinner party for the couple, but with the food prepared by the Top Chef Season 10 contestants! Come back tonight to check out all the food during my Top Chef Seattle recap.
We get right to the Quickfire Challenge as the chefs head to meet Padma Lakshmi and this week's guest judge Marilyn Hagerty. For the challenge, they will be making a sweet and savory dish based on their heritage. They draw knives and Lizzie draws a blank one, which is the only knife they can use the whole challenge, so sharing is caring. They have 30 minutes and all run for ingredients, so Josh decides to use the knife. It is funny to see all the chefs try and cut things using spatulas and the grater.
Micah and Josie are both making a tamale, so that is tough because they will be compared against each other. Danyele is making some bread pudding. Brooke is as American as they come, so she is making an apple pie and putting some cheddar cheese on it. She doesn't want to come across as being safe. Bart is Belgian, so he is making a waffle. Five minutes is left and the chefs start plating on Top Chef Seattle.
Padma and Marilyn go around to taste the dishes. Marilyn tells Danyele that leftover ham never tasted this good. Padma tells Sheldon is a very sophisticated dish. Padma tells Brooke that it tastes very "homey." Marilyn tells Stefan he did very well. She tells Josie it is a nice combination of tastes. After tasting all the dishes, Marilyn and Padma announce the winners. Marilyn said that Bart had too many things going on and Micah was dry on the taco, even though he made a tamale. She liked Josh, Stefan and Brooke. The best overall taste gave you a feeling of going home for the holidays and that was from Brooke, so she has immunity tonight on Top Chef Season 10.
Time to find out about the Elimination Challenge, which is a welcome home party for Anna Faris and Chris Pratt. They will each be serving one dish that satisfies Chris and Anna's tastes. The winner of this challenge will win a Toyota Prius C. Chris tells the chefs to pack in as many calories as possible. Anna said Chris likes to kill things and eat that.
The chefs take some times to themselves and Josh is surprised that him and Stefan have become friends. He thought he was douchey, but they have become close…so are one of them going home tonight on Top Chef 2012?
It is time for the chefs to cook and cater for the party. Kristen loves pasta and will be making that tonight. Josh is doing a pork dish, so he can redeem himself from last week. The chefs finish things up and head to the party to get things started for the service, which is 30 minutes away. Danyele's meat is only good for like a minute and then she said it tastes like shoes, so she is freaking out.
Anna and Chris and their guests start arriving. The chefs start serving their dishes for the guests. The judges arrive and Rick Moonen will be the guest judge tonight, which apparently John used to work for him and is worried about how he will judge his chowder tonight. Of course the other judges are Padma, Tom, Gail Simmons, Chris and Anna.
The judges go around for the first set of dishes. Bart made Loin of Elk with Cherry Beer Sauce and Mushroom Couscous. Brooke made Lamb-Stuffed Squid on Black Rice with Coconut Milk. Sheldon made Braised Okinawan Pork Belly with Seared Scallop and Rice Congee. Stefan made German Gulasch with Marjoram Bread Dumplings and Sour Cream. For Sheldon, Anna said it felt like every bite was a surprise. For Bart, Padma said the elk was done beautifully. For Stefan, Padma said it was so rich and delicious. For Brooke, Chris said it has every flavor.
Time for some more dishes: Kristen made Delice de Bourgogne Tortelloni. Micah made Braised Pork Ribs with Celery Root Puree, Grilled Apples and Celery Leaf Salad. Lizzie made Crusted King Salmon with Radish and Beet Salad. Eliza made Elk Ribeye with Elk Sausage Polenta, Spiced Carrots and Huckleberry Port Sauce. The judges go and taste and for Kristen, Rick said it was a perfect bite. For Micah, Tom said it was too much cream and some of the components didn't add. For Lizzie, Gail wanted it to be more seared and Anna wanted it to be seasoned more. For Eliza, Tom said the meat is not bad, but the rest of the dish was bland.
The last dishes come from Danyele, who made Pan-Roasted Wild Boar, Hoppin' John and Tomato-Bacon Marmalade. Josh made Roasted Pork Shoulder and Grilled Corn Puree with Succotash and Fennel Apple Salad. Josie made Malbec Braised Short Ribs, Pork Belly, Polenta with Cippolini Onions and Figs. John made Seafood Chowder with Cockles, Manila Clams, Crab, Mussels and Sockeye Salmon. For Danyele, Tom said it is sliced so thin it loses all it's texture. For Josh, Anna said she wishes the pork was seasoned more. For Josie, Rick said the dish sounded good, but there wasn't enough contrast. For John, Rick said it is a hug from the ocean and Padma said everything was cooked perfectly.
The judges are done and Tom said the dishes are above and beyond what they were last week, which is a good thing and someone will be winning a car tonight! The judges discuss the dishes and the best and worst dishes. Padma comes in and the judges want to see John, Kristen, Brooke and Sheldon. These four had the best dishes tonight on Top Chef Season 10. The winner of the challenge this week is Brooke, so she swept the challenges tonight and gets a Prius out of it…gotta love that!
They go back and the judges want to see Eliza, Danyele, Josh and Micah! Who will go home though? The judges discuss and these are the four most unsuccessful dishes. Josh's dish could have used more seasoning. Eliza's elk was cut too thin. Danyele's cooking was uneven and Gail said fear is holding her back. Tom tells her she has to do her own thing.
Tom said it was a great night and everyone enjoyed the dishes, but one of them will be going home. The chef eliminated on Top Chef Seattle is Eliza! I am shocked and thought it would be Micah. She now heads to Top Chef: Last Chance Kitchen where she will be taking on CJ and Tyler!
Join us on RealityRewind.com for all your Top Chef Seattle recaps, news, previews and predictions. Subscribe to our Email and RSS or like us on Facebook and follow us on Twitter for all our latest updates.
SHARE YOUR THOUGHTS! LEAVE A COMMENT NOW:
Commenting Rules:
Keep the conversation civil and on topic. If your comment does not add to the conversation or is insulting to others, it will be removed. Debate intelligently. No ALL-CAPS.