Top Chef Seattle Recap: Episode 4 – 50's Food Flashback
|
November 29, 2012 at 5:30 PM EDT
The chefs are back tonight on Top Chef Seattle and after a butchery in the Quickfire Challenge it looks like we are about to head back in time on Top Chef Season 10. The remaining chefs will work on creating a 1950's themed menu! What is the difference between a menu back in 1950 compared to 2012? I don't know either, but tonight's Top Chef 2012 will help explain that. Keep reading to find out who was eliminated on Top Chef Seattle.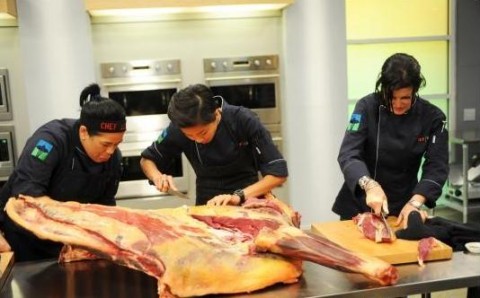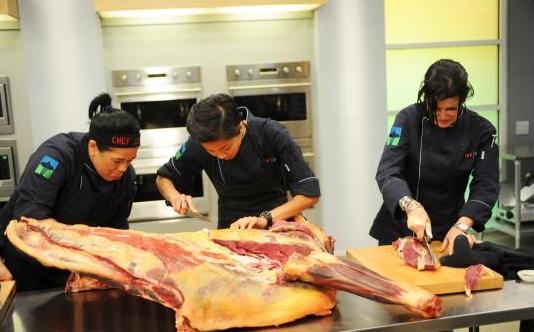 We finish the drama that started last week between John Tesar, CJ and Josh. John is just an ass and he rightfully owns the title of Most Hated Chef in Dallas. The next morning, we see some flirting going on between Kristen and Stefan and she said there is nothing wrong with a little flirting.

The chefs head to the Top Chef kitchen to meet Padma Likshmi and guest judge for the Quickfire Challenge Naomi Pomeroy. The challenge is to butcher a cut of beef from the two big slabs hanging from the ceiling and then create a dish in one hour. The winner will win immunity for the Elimination Challenge tonight. The chefs start butchering the beef and chopping the hell out of it!
CJ says he is worried about no one during this challenge, as he is the best chef on Top Chef Seattle. Tyler is in a funk and he is hoping his different style dish stands out to Padma and Naomi and he can get back on a winning streak. Lizzie is using the pressure cooker to cook her beef and it is not working and she is not sure if her meat will be completed within the hour. CJ said his dish is the kind of dish that if they don't like it, screw you. It is good.
The hour runs out and time for the judges to taste their dishes. Naomi tells Eliza that the other chefs were probably jealous that she got flank steak. She tells John that she is surprised he got his beef so tender in that amount of time. Kristen said she just went for the first cut she could find so she could get to cooking and Naomi said that was brave.
After tasting all the dishes, Naomi said that Lizzie's meat was too tough and did not make the cut, Eliza had a weird combination and Tyler's was under-seasoned, so they were cut. The favorites: CJ, John and Josh. The winner of the Quickfire Challenge is John, so he has immunity.
For the Elimination Challenge, the chefs are joined by the co-owners of Canlis Restaurant, Brian and Mark Canlis. The restaurant was opened in 1950 and was a place for fine dining. The chefs will be reviving that menu from 1950 in this Quickfire Challenge on Top Chef Season 10. The winner will receive $10,000 and there will be two chefs eliminated this week!
The chefs start going over the menu and decide who is making what and Kristen is upset she is only making two side dishes. Danyele does desserts in her restaurant, so she is happy she got things she is comfortable. Since John has immunity, he is going to be working on expediting the food in the kitchen.
The Elimination Challenge has started and Kristen said that simplicity is the most difficult, since she only has a few items in her dishes and that means they all have to be perfect. Carla needs to use the grill, but it is small and it is being used. John starts expediting and I am annoyed, so I wonder how the other chefs feel about him.
The judges arrive and this week they are Padma, Naomi, Hugh Achesone, Emeril Lagasse, Tom Colicchio, Brian and Mark Canlis. Before serving, there is a lot of confusion in the kitchen, but they get it done and brought out. First up are Tyler, who made Fresh Crab Leg Cocktail, Lizzie, who made Marinated Herring , Josh, who made French Onion Soup, John, who made Steamed Clams Bordelaise, Chrissy, who made Canlis' Special Salad, Brooke, who made Seafood Salad a la Louis.
Padma said Tyler's crab was great. Naomi thought Josh's soup was cold. Hugh said the salad looks like it is out of a Time Magazine article. Naomi said Lizzie's herring was her favorite dish so far. Emeril said he likes John's dish a lot. Tom said visually they all evoked 50s.
Meanwhile on the entrees, Carla's squab keeps coming back for being undercooked. For the entrees, Sheldon made Fresh Hawaiian Mahi Mahi. Carla made Whole Milk-Fed Squab. Micah made Fresh Vegetables. Stefan made Calf's LIver and Kristen made the French Fried Onions on top. Bart made Double Cut New York Steak. Josie made Gargantuan Baked Idaho Potato. CJ made Shish Kebab with Pilaf with Kristen's side of French Mushrooms.
Mark said he loves Sheldon's Mahi Mahi. Hugh said that Micah's carrots are way overdone and the turnips are under, but Naomi said it is the perfect blend of vegetables for the 50s. Padma said she loves Carla's squab, but Hugh said he would have cut it in half. Naomi said Stefan's live looked and probably tasted like it did in the 50s. Mark said hats off to Kristen on a perfect Fried Onion. Hugh said CJ's Shish Kebab was really under-seasoned. Naomi said she was disappointed in Bart's steak. Brian said the potato was beautiful, but needed to be cooked longer. Tom said Kristen did a great job on the mushrooms. Overall, the judges do not seem happy so far on Top Chef Season 10.
Now time for the desserts, which were split between Danyele and Eliza. Danyele made Vanilla Ice Cream and Royal Hawaiian Supreme. Eliza made Mint Sherbet and Fresh Frozen Hawaiian Pineapple Parfait. Padma said the desserts, more than anything, smacked of the 1950s. Mark said Eliza made a bold statement with the sherbet. Hugh said the parfait was fine. Naomi said the Royal Hawaiian Supreme was great. Mark said his favorite of the desserts was Danyele's vanilla ice cream.
Tom said overall it was good, but some things missed the mark. The said Chrissy's salad missed the mark, Carla's squab was overcooked, Padma said CJ's was not good and Josh's onion soup had a lot of salt for her. It is time to talk to the chefs and Padma calls in Lizzie, Kristen, Tyler and Stefan for the Judges' Table on Top Chef Seattle. These four served the four best dishes, which is a relieve to Tyler. The winner this week is Kristen, even with both her side dishes, so she wins $10,000!
The chefs send back Carla, Chrissy, CJ and Josh. Both CJ and Josh were cocky going into this, so shocked to see them both on the bottom tonight on Top Chef Season 10. They have the worst four dishes. Josh tells the judges that John was a monkey at expediting and he thought he was good, but he wasn't. Carla said she checked once or twice how her squab was being cooked, which shocked Tom and said they need to check more on how people are cooking her food. They all defend their dishes and the judges make their decision. The chefs who are eliminated on Top Chef Season 10 tonight are Chrissy and Carla, so Josh and CJ make it through.
Top Chef: Last Chance Kitchen kicks on Bravo's website and the chefs kicked off will compete to return for the Top Chef Seattle Finale! That is big news, so check out their website.
Join us on RealityRewind.com for all your Top Chef Seattle recaps, news, previews and predictions. Subscribe to our Email and RSS or like us on Facebook and follow us on Twitter for all our latest updates.
SHARE YOUR THOUGHTS! LEAVE A COMMENT NOW:
Commenting Rules:
Keep the conversation civil and on topic. If your comment does not add to the conversation or is insulting to others, it will be removed. Debate intelligently. No ALL-CAPS.