Top Chef Seattle Recap: Episode 10 – Battle Before The War
|
January 9, 2013 at 8:00 PM EDT
Wolfgang Puck and Danny Meyer make an appearance tonight on Top Chef Seattle as the remaining eight chefs fight for their chance to win the title as winner of Top Chef Season 10. As we get closer and closer to the end the challenges are getting more intense and tonight is no different, as the chefs will be responsible for coming up with an idea for their very own restaurants and in only one day! Check out my Top Chef Seattle recap tonight and watch with me as we find out who was eliminated on Top Chef 2013!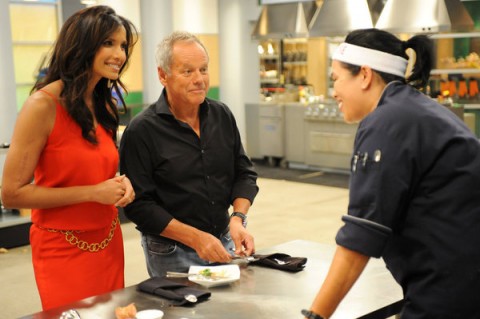 We saw a celebration of Top Chef last week when the chefs made dishes from some of the most memorable moments of the first nine seasons. They may have been good points or moments that brought major drama, but they are still moments that Top Chef fans all remember. It was a celebration, but Lizzie and John weren't celebrating, as their two dishes ended up in the bottom two and had to cook-off for survival. Lizzie won the cook-off and John was sent home from Top Chef Seattle in a shocker!

The chefs take on creating their own restaurants tonight on Top Chef Season 10, but putting their ideas and concepts into one dish that they will serve to 200 people! Because it is such an intense challenge, the chefs will have the help of four sous chefs, which some happen to be chefs that were eliminated earlier this season! Will tensions fly with eliminated chefs coming back? Find out in my Top Chef Seattle recap and find out who was eliminated on Top Chef Season 10!
The chefs meet Padma Lakshmi and Wolfgang Puck in the Top Chef Kitchen for the Quickfire Challenge. They will be working with ginger and have 15 minutes  to create a dish highlighting the ginger. They all rush around to get things done in that short amount of time. Sheldon is making a stir fry because it is what he knows.
Wolfgang and Padma go around and taste the dishes and all eight of the chefs seemed to impress the judges. The bad dishes were from Sheldon (tasted like pedestrian Chinese food) and Josh (his dessert lacked flavor). The best dishes were from Brooke, Stefan and Lizzie. Wolfgang enjoyed them all, but the winner is Brooke and she wins immunity for the Elimination Challenge.
For that Elimination Challenge, it is time for Restaurant Wars and they must each come up with a complete restaurant concept and create one dish to represent that concept and present it at the Bite of Seattle for 200 people and there will be two winners that get $10,000.
Sheldon is going to do modern Filipino food. Micah lost 25 pounds eating healthy with raw foods, so he wants to do that concept. They head back to the kitchen and find the four sous chefs that will be helping them out, which happen to be Carla, Chrissy, Eliza and Kuniko. 
Tom Colicchio comes in to see how the chefs are doing. Stefan is doing a Thai concept and Tim is not looking too impressed. Kristen is wanting to win that $10,000 and add to her winnings so far this season. You can never have too much money, right?
Sheldon's birthday is today and he gets to call his girls, but does that mean he is going home? He is being showcased too much tonight! The chefs head out to the Bite of Seattle and start working on their dishes. Josie is not done and freaking out as time runs out and the chefs start serving food.
The judges for this challenge are Padma, Tom, Danny Meyer and Gail Simmons. Josh's concept is Bistro George and he made Seared Eye of Rib Eye with Cauliflower Puree and Mushroom Red Wine Sauce. Lizzie's concept is Mia Filino and she made Mustard Green Canederli with Fonduta and Crispy Speck. For Josh, Danny said the mushrooms are well-seasoned. Gail said it tastes good. For Lizzie, Tom said the flavor is great, but a little heavy.
Sheldon's concept is Urbano and he made Sour Tamarind Soup with Pork Belly, Shrimp and Snapper. Stefan's concept is Bangkok Via Munich and he made Thai Lobster Bisque with Shrimp Dumplings, Potatoes and Radishes. For Stefan, Danny said the lollipop doesn't hold up to the taste of the soup and it makes him forget how great the soup is. For Sheldon, Danny said it is clear he is cooking from his heart. Padma said he kept it elegant.
Micah's concept is Raw and he made Salmon, Snapper, Himachi, Squid, Scallop and Mackerel with Raw Vegetables. Kristen's concept is Atelier Kwan and she made Onsen Egg with Camembert-Mustard Sauce and Buttered Radishes. For Kristen, Tom said it is nicely done. They loved the poached egg. For Micah, Tom didn't like his presentation. Danny thought we didn't need his concept.
Josie is behind schedule yet again and the line is way backed up. Brooke's concept is Unkosher and she made Matzo Ball Soup with Duck Confit and Toasted Black Rye Bread. Josie's concept is Home 305 and she made Puerco Asado, Black Bean Chorizo Croquette, Pickles and Mojo Sauce. For Brooke, Tom said she could have pushed the concept further. For Josie, Gail said the pork is dry and flavorless.
The judges discuss the dishes and they did not seem to be impressed with Micah, Stefan and Josie. For the Judges' Table on Top Chef 2013, Padma Lakshmi calls in Sheldon, Kristen and Josh. They had the best dishes, but the two winners tonight are Sheldon and Kristen, so she continues to roll in the dough and he gets a nice birthday present.
Sheldon and Kristen will now face off in Restaurant Wars and it will open in 48 hours. They get to staff their own restaurant, but also will chose from the eliminated chef. The winner gets a Toyota Avalon. Kristen picks Brooke, Lizzie and Josie. Sheldon picks Josh, Stefan and Micah, so it works out to be guys against girls.
Padma comes in and asks to see Lizzie, Josie and Micah. Lizzie didn't explain her concept well enough, Micah had too many types of fish on the plate and Josie overcooked her pork. Time to find out who was eliminated on Top Chef Seattle. The losing chef tonight is Micah. Do you agree?
For Top Chef: Last Chance Kitchen, Micah goes in determined to win it, but can he take down the five-time champion CJ?
Join us tonight on RealityRewind.com for my Top Chef Seattle recap. Let's find out together who was eliminated on Top Chef Season 10! Subscribe to our Email and RSS or like us on Facebook and follow us on Twitter for all our latest updates.
SHARE YOUR THOUGHTS! LEAVE A COMMENT NOW:
Commenting Rules:
Keep the conversation civil and on topic. If your comment does not add to the conversation or is insulting to others, it will be removed. Debate intelligently. No ALL-CAPS.