Top Chef Seattle Recap: Episode 1 – The Ultimate Chef Test
|
November 8, 2012 at 11:06 AM EDT
Bravo is putting a little twist on it's hit cooking show and we are now seeing Top Chef Seattle kick off. This is the tenth season of Top Chef and the premiere has us meeting 21 new chefs all having the dream of making it into the Top Chef Seattle kitchen. The Ultimate Chef Test kicks off the Top Chef Seattle premiere and it is a battle to the end, but who will make the cut on Top Chef Season 10?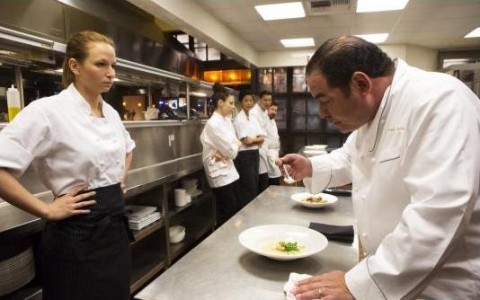 The four judges (Chef Tom Colicchio, Chef Hugh Acheson, Chef Emeril Lagasse and Chef Wolfgang Puck) have invited 21 chefs to their restaurants to test them to see if they have the skills to make it on Top Chef Season 10. All 21 could make it or none of them could make it, but then they wouldn't really have a show!

We meet John Tesar, who was voted the Most Hated Chef in Dallas, so he should be interesting to watch. They meet up with Tom and he said they will be working the dinner service for the night, so he can judge how they work in the kitchen and how they will mesh with the other chefs. He gives Lizzie Binder the task of shaping and stuffing the tortellini. He tells he can tell that she has made tortellini before. Anthony Gray is given the task of cutting up the chicken, which he himself admits he f***** up!
Tom know John and he knows he is a hot-head, so we know John will make it right? Now we look at Micah Fields, who is filleting the black bass. He tells Tim that he skipped being a sous chef and Tom is not impressed with how he filleted the fish. Jorel Pierce has to butcher the whole chickens. His restaurant is butchery focused, so he thinks this will be a piece of cake. He may be cocky, but he screws it up and Tom is not impressed.
Now we get a chance to check out Emeril and the five chefs who join him on Top Chef Seattle. They are going to be tested on the same test he puts his staff through: how they make soup! He judges a restaurant by the soup and they have one hour to impress Emeril. They all run to the kitchen and get started, frantically. Tina Bourbeau felt everyone was doing a puree, so she was going to go with a layered soup and that could make her stand out. Kristen Kish and Stephanie Cmar actually work together and have known each other for years and have matching tattoos and live in the same apartment complex…they are not lesbians, just to be clear Stephanie said!
Jeffrey Jew said it is very hot weather out there, so he is going to make a chilled gazpacho, which Emeril wonders how he is going to get the soup chilled in that hour. If Joshua Valentine goes to Seattle, then he will miss the birth of his daughter…his wife is due in three months! That is a big sacrifice to make. Fifteen minutes left and Jeffrey is starting to question himself on the chilled and Emeril said if he gives him a hot gazpacho, then he is out on Top Chef Season 10.
Joshua said he is usually good with time, but he has his plated and there are nine minutes left! He is now worried the soup might get cold. Time runs out and it is time for Emeril to taste what they made. Stephanie is first and he said he wanted the cauliflower to come through more, but well done. For Tina, he said it is garlicy. For Kristen, he said the scallops are cooked perfectly. For Jeffrey, he said it is lovely and it is cold and he should grab a Top Chef coat! For Joshua, he said it is a little sweet, but the mussels are cooked perfectly.
They all head out to the dining room to find out who makes it, even though we know Jeffrey is already going. Stephanie and Tina are packing their knives and heading home! Stephanie and Kristen are splitting up. Kristen and Joshua are headed to Seattle with Jeffrey for Top Chef Seattle.
We now head back to see how the chefs are doing with Tom and dinner service is beginning. John is doing well with the halibut and Tom is impressed and will be heading to Seattle.
Top Chef Season 10 then heads to see Wolfgang Puck and the six chefs he is testing. He was judged way back in the day on making an omelette, so he will be judging them the same way. It must look perfect, so they really need to know their skills and they have 45 minutes. They all head to the kitchen and Tyler Wiard can't believe he is an omelette away from Seattle. Kuniko Yagi left Japan to pursue her cooking career, which her family is not happy about and she is wanting to drinking the coffee in Seattle. Carla Pellegrino is starting a fire in the kitchen and she is swearing up a storm. She said some people might call her a bitch (even she would call herself one sometimes).
Daniel O'Brien used bacon fat in his omelette and now it has a residue on the eggs and looks terrible. Eliza Gavin made a test omelette and the pan is too hot, so she must redo it again. Tyler made his omelette too brown and puts a salad on top to cover it up. For Tyler, Wolfgang said it had the crispness of the potatoes to contrast with the omelette. For Kuniko, he said very interesting flavor. For Daniel, it is a little bit overdone and he would like it if he ate it in the dark. For Chrissy Camba, he said it could have used a little salt. For Eliza, he said she made a complicated omelette and it is a tasty dish. For Carla, he said the juiciness of the vegetables saved the omelette.
After tasting all the dishes, he has decided that five of them will go through and one will not. The presentation of his omelette was not great, so Daniel is headed home. The other five chefs are all headed to Top Chef Season 10.
Time to see what test Hugh puts his five chefs to. They have 45 minutes to make a salad. Does it take that long to make a salad? Hugh wants to see them explore flavors in a new way. Bart Vandaele has been knighted as a chef, so Hugh asks him if he wears a suit of armor in the kitchen. Gina Keatley said she is a very competitive person, so watch out for her. Sheldon Simeon worked his way up from a dishwasher to an executive chef, so he wants to put Hawaii on the map. Danyele McPherson is struggling to plate as the time runs out.
Hugh starts to taste the salads on Top Chef Seattle. For Sheldon, he said he needs a little more vinaigrette. For Bart, he said the lobster is well-cooked and there is a lot going on. For Brooke Williamson, he said the fried kale is awesome and he would serve that and she has earned a Top Chef Seattle jacket! For Gina, he said it is weighty overall but it looked nice. For Danyele, he said it is good, but be careful grilling things.
After tasting all the dishes, Gina is sent home and Hugh sends the other three chefs to Top Chef Season 10! Gina is not happy, but buh bye!
Back to Tom and the chefs working the dinner service. Anthony Gray seems to be laying back and not getting involved, so Tom said it is not looking good for him. Micah is looking comfortable and in his element. Jorel overseasons his dish, which has him scared. Anthony makes a dish and he gets Tom's approval.
Tom sends them out of the kitchen to see who does and does not make it onto Top Chef Season 10. There are four chefs left, after John Tesar was sent to Seattle earlier. Lizzie is headed to Seattle. Jorel is headed home because of the too salty dish. Anthony slacked too much and he is headed home. Micah moved through the kitchen well, so he is headed to Seattle.
When all was said and done on Top Chef Seattle, there were five chefs sent home and 16 will be moving on to Top Chef Season 10! Any early favorites?
Join us on RealityRewind.com for all your Top Chef Seattle recaps, news, previews and predictions. Subscribe to our Email and RSS or like us on Facebook and follow us on Twitter for all our latest updates.
SHARE YOUR THOUGHTS! LEAVE A COMMENT NOW:
Commenting Rules:
Keep the conversation civil and on topic. If your comment does not add to the conversation or is insulting to others, it will be removed. Debate intelligently. No ALL-CAPS.