The X Factor USA Season 2 Predictions: Top 6 Spoilers – Who Goes Home Tonight?
|
December 6, 2012 at 1:00 PM EDT
The tensions were high last night between the judges (Simon Cowell, Demi Lovato, Britney Spears and L.A. Reid) on The X Factor USA Season 2. With only six acts remaining, you know they are all fighting to have one of their acts win it all for The X Factor 2012. Each of the remaining acts took on two songs last night and then left it up to America to decide which two go home tonight during another double elimination on The X Factor Season 2. Check out my The X Factor USA Season 2 predictions and then come back tonight to find out who was eliminated on The X Factor USA 2012!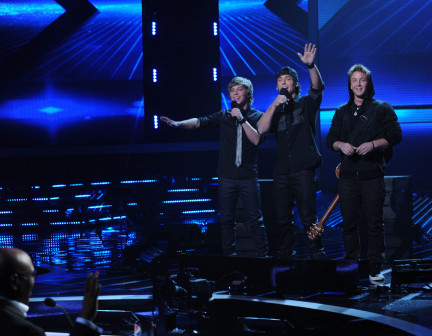 The six remaining acts (in the order they were ranked last week) are Carly Rose Sonenclar, Tate Stevens, Emblem 3, Fifth Harmony, CeCe Frey and Diamond White. The singers performed an Unplugged version of a song, which means it was them, the stage and some band players. These were raw performances and really showcased who can and cannot sing, which was obvious to me. The second performance was the Pepsi Challenge performance, which the song, staging and outfits were all picked by America. These were the normal, over-the-top performances we are used to on The X Factor USA 2012.

Here are my thoughts on the night: Drew from Emblem 3 cannot sing and that was seen in both of their performances tonight. CeCe had a very good night and seemed to have that confidence and sass back from the beginning of the season. Carly Rose is 13 years old and sounds like a seasoned veteran, even though I didn't like the first song choice for her. Fifth Harmony is lame and I am over them, but they actually did sound like a girl group during their second performance. Diamond knocked it out of the park with her first performance, but then came back to reality with her second. Tate is a country superstar and I cannot talk bad about this guy!
Tonight we lose two more acts on The X Factor Season 2. Two singers safe for sure tonight are Carly Rose Sonenclar and Tate Stevens. They battle each week for the top spot in the rankings, so I don't see them having any issues. I think CeCe Frey did great last night, but the end of the road has finally come for her. She has been in the bottom almost every week and I think with only six acts remaining she can't fight it any longer, so she will be headed home. That leaves a battle for the other three acts. Unfortunately the girls get out and vote a lot on these shows, so because Emblem 3 is good looking, they will take the #3 spot.
That leaves us with Fifth Harmony and Diamond White singing for survival on The X Factor 2012. While I am more of a fan of Diamond over Fifth Harmony, I just think Simon is in love with the girls way too much to let them go that easily. Diamond was in the bottom last week, so I don't think they will save her again and we will see Fifth Harmony in the semifinals next week on The X Factor USA Season 2 and Diamond White will be sent home.
So, what are your The X Factor USA 2012 predictions?
Join us on RealityRewind.com for all your The X Factor Season 2 news, recaps, previews and predictions. Subscribe to our Email and RSS or like us on Facebook and follow us on Twitter for all our latest updates.
SHARE YOUR THOUGHTS! LEAVE A COMMENT NOW:
Commenting Rules:
Keep the conversation civil and on topic. If your comment does not add to the conversation or is insulting to others, it will be removed. Debate intelligently. No ALL-CAPS.