The X Factor USA 2013 Recap: Premiere Part 2 – Auditions Night 2 (VIDEO)
|
September 12, 2013 at 7:00 PM EDT
I can hardly believe it, but summer is over and fall shows are starting and it kicked off officially last night, as The X Factor USA 2013 started their two-night premiere on FOX. We have Simon Cowell and Demi Lovato back for another season and Kelly Rowland and Paulina Rubio joining them on the judges' panel for The X Factor USA Season 3! The panel seems to be working and I enjoyed the banter between them all last night. Let's see if it continues tonight during our The X Factor USA 2013 Recap and watch the auditions on The X Factor Season 3 continue!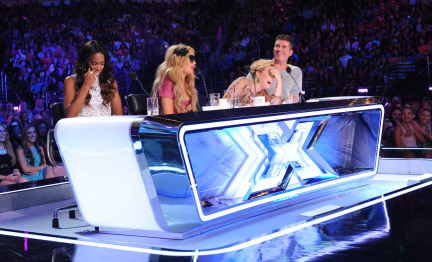 Things started out on a good night last night on The X Factor auditions 2013 and one of the highlights of the night was the audition from Lillie McCloud. She has an amazing voice and she looked amazingly well for someone that is 54 years old and has seven grandchildren. I became a fan, but then rumors are going around that she is actually Nicole McCloud, who had some hits in the 80s and 90s and not focused on her kids like she claimed in her package video. Who to believe on this one???

We continue the auditions on The X Factor USA 2013 tonight, but we have two full hours of singing tonight. Some of these auditions annoy me with how silly some people are and wasting my time, but then the next person makes me cry and I am back in love with the show! Watch with us in my recap starting soon!
WARNING: THE X FACTOR USA 2013 SPOILERS AHEAD!
Don't want to know what happened on our The X Factor USA 2013 Recap or see the videos from the auditions on The X Factor Season 3? Then don't read ahead!
*********************************************************************
Here we go…we start out in Denver tonight, but I have noticed they like to go all over the place with these auditions. Remember, they will be auditioning in four categories: Boys, Girls, Over 25s and Groups.
Yosselin Marquez is a huge fan of Paulina Rubio and is excited to meet her. She compares herself to Paulina, but better. Simon starts asking her some questions and Yosselin asks him who he is. Yeah, that will make her a winner. She starts singing and uses her phone for the lyrics. It is a big no, but she still thinks Denver loves her. She doesn't care about what the judges think. Well, they put you on the show, so you better like them and care what they think!
Thomas Weiderspon has the deep country voice and hopes to improve it for Denver. He can get the low notes, but Simon said he is too stiff and it is a no.The bad auditions continue and it is not a good start to tonight.
Maybe Rylie Brown can change that? She is only 15 years old and has been practicing this one song for the past month non-stop for this moment on The X Factor USA Season 3. She starts strong, but then forgets the lyrics! That practicing did not help, huh? She comes back and kills it and she has that raspiness to her voice and I enjoy it. Simon said she messed up, but who cares when you have a voice like that and absolutely loves her. Demi said she has a great tone with her voice. Kelly said she was uncertain, but they can help her out with that! It is four yes votes!
Next up is Jeff Brinkman and he runs a doggie daycare. His daughter was supposed to be born at this time, but she came six weeks early and he takes it as a sign from her he needs to do this. Baby is good though. He has that deep, raspy voice and sounds great on his audition. His voice reminds me of Vino Alan from Season 2. Anyone else? Kelly loves how sincere he is and he means every word. Paulina loves his raspy voice and thinks he is fresh and original. Demi thinks he has a beautiful recording voice. He gets four yes votes on The X Factor Season 3!
We are switching cities and have moved to Long Island, NY and it is the biggest turnout they have ever seen: over 17,000 people! First up is Jocelyn Hinton and she is not accepting any no's tonight. She has no formal training, but she is up there with the likes of Whitney Houston and Mariah Carey. She says she is a diva and she is going to win. You can tell she has no training and another one forgets the lyrics, but this one can't make up for that mistake with this horrendous voice. Simon said the best part is when she forgot the lyrics. She keeps singing when the judges are giving her critiques and says she was holding the mic too close, but it is a no tonight!
Rachel Potter is 29 years old and has always wanted to be a country singer, but never pursued it and now here is her chance and wants to regret nothing. She has amazing control of her voice and a great country voice. I think we have another contender here folks! Kelly said she is a beast. Demi said she has the look and the best voice she has heard and this industry is ready for her. Four yeses and she is moving on!
We take a look at the fun tactics between Simon and the lady judges! We now have a womanizer on our hands, as Jorge Pena is bringing his Latin charm to the stage. I think he was winning over the judges' panel until he started open his mouth more and more and they all look irritated! He sings a Spanish song and it sounds decent, but no reaction from the crowd. Demi said that humility is sexy and he lacks that. He tells Demi to tell him woman and that sets her off! They don't like his attitude and Paulina tells him to come down from the stars because he is not a star. They give him the yes votes though, so we have to see more of him!
Simone Torres and wants to do this for her hometown of Long Island, NY. She has that weird, quirky personality, but she sings "Mustang Sally" and nails it. Her voice is so good and I love the tone of it. I think this song suits her voice, but I think she can take on many more songs too…she has a lot of talent! She breaks down in tears and so does her Dad and so do I! Paulina said she did not expect her to sing that well. Demi said we all just want to hug you. Simon said she really is special. Four yes votes!
How many times is Mario Lopez going to tell us that the singers are broken up into four categories??? Next up is Russ Pouliot and he is a crooner and thinks he is the guy Simon has been looking for. He has been singing since 1989 and taken professional voice lessons. Where? This was terrible and he is not moving on! Simon does a little singing himself and sounded just as good as Russ!
Next up on The X Factor USA 2013 is a group of sisters from Detroit called Roxxy Montana. They seem fun and funny. They have big personalities, but can they all sing together well? The first one starts amazing, but the other sisters get their time and it turns into a mess! Kelly asks them to sing another song and they go a capella and bring us to church. They knock it out of the park. Kelly said when they all come together it is something special. Paulina said they blew them away. Simon said they are really good together, but they have a secret weapon and that is what every band needs. They get four yes votes and representing Motown!
Al Calderon is a host at a restaurant and is the designated Happy Birthday singer for the restaurant! He is a family guy and wants out of that restaurant! He doesn't have a girlfriend and the crowd goes crazy. He is working the crowd and judges with his singing and those beautiful eyes. He has a good voice, but nothing crazy spectacular. I'd put him through and have him join a group. Kelly said if she was 18 than she would want him to take her out on a date. Demi said she has a feeling he won't be working at that restaurant very much longer. Simon said the music business is waiting for someone like him and it is four yes votes!
Everyone comes to The X Factor USA Season 3 with hopes of changing their lives. Denise Weeks is a subway singer in New York and does it for tips. She lost her children's father when they were young and now it is time for her to live out her dreams because her children are grown. She starts, but Simon cuts her off and said she is rushing it and they aren't getting any emotion. He asks her to sing it without a track. She comes back and hits that emotion and nails it. These are the stories and people I root for! The judges loved her and it is four yes votes!
Join us tonight on Reality Rewind for our The X Factor USA 2013 Recap. Let's watch together as The X Factor USA Season 3 auditions begin! Subscribe to our Email and RSS or like us on Facebook and follow us on Twitter for all our latest updates.
SHARE YOUR THOUGHTS! LEAVE A COMMENT NOW:
Commenting Rules:
Keep the conversation civil and on topic. If your comment does not add to the conversation or is insulting to others, it will be removed. Debate intelligently. No ALL-CAPS.