The X Factor USA 2012 Tribute To Sandy Hook Elementary (VIDEO)
|
December 19, 2012 at 10:30 PM EDT
Taking a page from The Voice Season 3, Simon Cowell started the night on The X Factor USA 2012 with a special tribute to all the victims of the Sandy Hook Elementary shooting. He looked like he was struggling a little with his little speech and maybe even getting a little teary eyed? The Top 12 took the stage afterwards and sang "You Are Not Alone" by Michael Jackson. You can check out The X Factor USA Season 2 tribute to Sandy Hook below.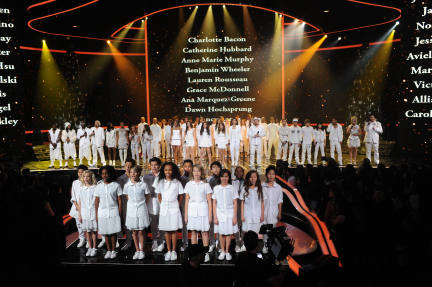 Here is my rant with this performance: I think that The Voice Season 3 kept it classy with the coaches singing with the singers from Season 3 behind them and joined by a children's choir and holding up a card with the names and ages of the victims. It was short and sweet and simple. Then The X Factor USA 2012 takes the stage for their tribute and they had each act take on a little part of the song. They were all dressed in white, but some of their outfits were over the top and I hated that.

There is a difference between doing a tribute and doing what The X Factor 2012 did. I don't want all the production and the hooplah. The Voice did it right and The X Factor did it wrong. They were also joined by a children's choir and showed the names on the big boards on the stage. There was just something missing from this tribute. I missed the emotion that The Voice coaches showed. It was a nice idea, but I think they missed the mark. Check out The X Factor Season 2 tribute to Sandy Hook here:
Join us on RealityRewind.com for all your The X Factor USA Season 2 news, recaps, previews and predictions. Subscribe to our Email and RSS or like us on Facebook and follow us on Twitter for all our latest updates.
SHARE YOUR THOUGHTS! LEAVE A COMMENT NOW:
Commenting Rules:
Keep the conversation civil and on topic. If your comment does not add to the conversation or is insulting to others, it will be removed. Debate intelligently. No ALL-CAPS.