The X Factor USA 2012 Top 4: Fifth Harmony Performances (VIDEO)
|
December 13, 2012 at 12:25 AM EDT
The Top 4 took the stage tonight on The X Factor USA 2012 and it was a huge night, as they all took the stage and performed two songs for the Semifinals of The X Factor Season 2. There are two groups remaining for Simon Cowell, as both Emblem 3 and Fifth Harmony are alive and kicking on The X Factor 2012. Fifth Harmony is an underdog tonight, but they did a solid job. Check out both their performances on The X Factor USA 2012 below!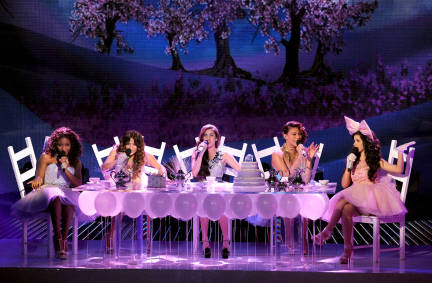 For their first song, Fifth Harmony chose to sing "Anything Could Happen" by Ellie Goulding. For the first time on The X Factor USA 2012, the acts could chose their own song. Their mentors normally pick the song for them, so the girls thought this would be a fun and upbeat song to show the world a more fun girl group. Did it work? Not for me. They can sing, but I am just bored by these girls. Anyone else? Check out their first performance here:
For the second song, Simon Cowell thought it would be a good choice for them to sing the same song they sang at his house during the audition rounds of The X Factor Season 2. They sang "Impossible" by Shontelle. To mix it up and try to win votes tonight, they decided to throw some Spanish lyrics into the rendition. Why? I don't know, but it didn't work for me. I think they did a solid job, but haven't we all seen this before from them? Well, yes we have! Check it out for yourself right here:
Would you vote for Fifth Harmony on The X Factor USA Season 2?
Join us on RealityRewind.com for all your The X Factor USA 2012 news, recaps, previews and predictions. Subscribe to our Email and RSS or like us on Facebook and follow us on Twitter for all our latest updates.
SHARE YOUR THOUGHTS! LEAVE A COMMENT NOW:
Commenting Rules:
Keep the conversation civil and on topic. If your comment does not add to the conversation or is insulting to others, it will be removed. Debate intelligently. No ALL-CAPS.