The X Factor USA 2012 Top 4: Emblem 3 Performances (VIDEO)
|
December 13, 2012 at 1:05 AM EDT
We got to see the Top 4 perform tonight on The X Factor USA 2012 Semifinals and with two songs each, it was time for the four remaining acts to show America what they were made of. One of those acts left is Emblem 3, which has seemed to make it this far on somewhat good singing, but good looks that have all the girls voting for them on The X Factor Season 2. I think they can sing, but are they the greatest? Check out Emblem 3 on The X Factor USA Season 2 below.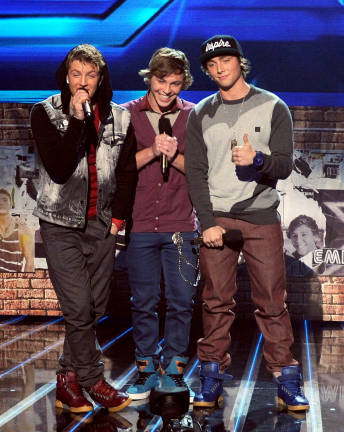 For their first song, Emblem 3 decided to sing "Baby I Love Your Way" by Peter Frampton. This was their Mom's favorite song growing up, so this was their choice. They were determined tonight to make Demi Lovato happy and how she wants them to command the stage. As much as they tried, I think they failed. I have just come to outgrow Emblem 3. I think they started out so good, but each week on The X Factor 2012 they disappoint me more and more. Check out their first performance here and tell me your thoughts:
For the second song, Simon Cowell chose "Hey Jude" by The Beatles for them to sing. Could this group be setup any more to try and be that group that everyone loves? If it isn't One Direction, now it is The Beatles! They started out in the auditions saying they didn't want to be a boy band and now here we are and they are the picture of a boy band. Get it together boys! Check them out here:
Would you vote for Emblem 3 on The X Factor USA Season 2?
Join us on RealityRewind.com for all your The X Factor USA 2012 news, recaps, previews and predictions. Subscribe to our Email and RSS or like us on Facebook and follow us on Twitter for all our latest updates.
SHARE YOUR THOUGHTS! LEAVE A COMMENT NOW:
Commenting Rules:
Keep the conversation civil and on topic. If your comment does not add to the conversation or is insulting to others, it will be removed. Debate intelligently. No ALL-CAPS.