The X Factor USA 2012 Top 4: Carly Rose Sonenclar Performances (VIDEO)
|
December 13, 2012 at 1:41 AM EDT
One of the favorites to win The X Factor USA 2012 has been Carly Rose Sonenclar, as her and Tate Stevens have managed to keep the top spot all season long in the rankings on The X Factor Season 2. Her mentor, Britney Spears, thinks she is ready to take on the big time singers in the world, but how do you feel about Carly? Tonight she sang two songs on The X Factor USA Season 2 and it is all up to America to vote her into the finals next week. I think she will be fine, but check out her performances below on The X Factor USA 2012 semifinals!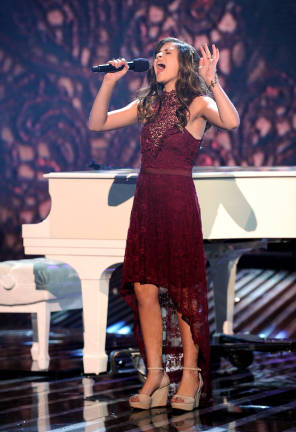 For her first song, Carly chose "Your Song" by Elton John. This is her Dad's favorite song and he is the one who inspired her to sing, so she sang it for him. I love me some Carly, but does anyone else think she needs to sing a song more her age? She is 13 years old after all! She has great vocals, but I want to see her have fun and act like a teenage girl every once in a while. Agree or disagree? Check out here first performance on The X Factor 2012 here:
For the second song, Britney chose "Imagine" by John Lennon. Yet again, another old song for the young girl! Yet again, she sounds amazing, but I want to see something different from her. She starts out at the piano, which is a change for her, but who knows. How did you feel about it? Check out the performance here:
Would you vote for Carly Rose Sonenclar on The X Factor USA Season 2?
Join us on RealityRewind.com for all your The X Factor USA 2012 news, recaps, previews and predictions. Subscribe to our Email and RSS or like us on Facebook and follow us on Twitter for all our latest updates.
SHARE YOUR THOUGHTS! LEAVE A COMMENT NOW:
Commenting Rules:
Keep the conversation civil and on topic. If your comment does not add to the conversation or is insulting to others, it will be removed. Debate intelligently. No ALL-CAPS.