The X Factor USA 2012 Top 3: Tate Stevens Performances (VIDEO)
|
December 19, 2012 at 10:23 PM EDT
With only three acts left on The X Factor USA 2012, tonight is a huge night for all of them. They all want to win that $5 million recording contract, no one else wants it more than Tate Stevens and I don't think anyone deserves it more than him on The X Factor Season 2. He has been a superstar all season long and has battled with Carly Rose Sonenclar all season long on The X Factor USA Season 2 for that top spot in the rankings. Will it be battle between them two or will Fifth Harmony sneak up and steal it away? Check out how Tate Stevens did tonight on The X Factor USA 2012 below.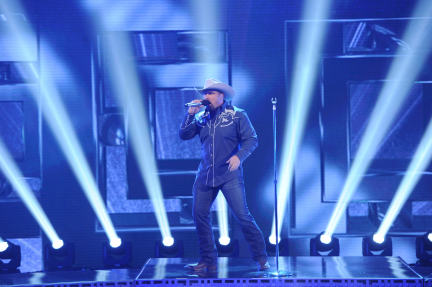 For the first song, Tate sang his initial audition, which was "Anything Goes" by Randy Houser. I loved this country superstar then and I want him to win so bad this season. He is an amazing guy and you can see the love he has for music and the even bigger love he has for his wife and family. He sang the song beautifully and just proved that he should win The X Factor 2012. Check out his performance on The X Factor USA Season 2 right here:
For his second performance, Tate sings "Pontoon" by Little Big Town. He is of course joined by Little Big Town in the middle of the performance. I loved this performance by Tate. He was having fun and it was nice to see. He struggled hitting the higher notes when he was out there alone, but he sounded good when singing with the group and just looked so comfortable up on the stage. Check out the performance here:
For his last performance on The X Factor 2012, Tate Stevens sings "Tomorrow" by Chris Young. For me, this just solidified his win in the competition. He is a solid singer and he knows what he wants and he knows what he sings well. He deserves that contract and I hope America gives it to him. Check out his performance here:
Would you vote for Tate Stevens on The X Factor USA 2012?
Join us on RealityRewind.com for all your The X Factor USA Season 2 news, recaps, previews and predictions. Subscribe to our Email and RSS or like us on Facebook and follow us on Twitter for all our latest updates.
SHARE YOUR THOUGHTS! LEAVE A COMMENT NOW:
Commenting Rules:
Keep the conversation civil and on topic. If your comment does not add to the conversation or is insulting to others, it will be removed. Debate intelligently. No ALL-CAPS.