The X Factor USA 2012 Top 3: Carly Rose Sonenclar Performances (VIDEO)
|
December 19, 2012 at 10:18 PM EDT
Carly Rose Sonenclar has been one of the favorites all season long to win The X Factor USA 2012, but it all comes down to tonight's performances and how America votes and you never know what they will do! Carly takes the stage with Tate Stevens and Fifth Harmony and one of them will win The X Factor USA Season 2, but who will it be? Check out how Carly Rose Sonenclar did tonight on The X Factor 2012 below and tell me if she deserves to win The X Factor Season 2!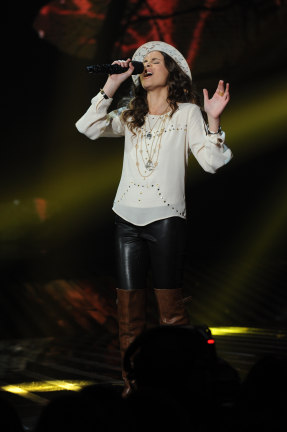 She starts the night out by singing "Feelin' Good" by Nina Simone. This is the song she first sang during her initial audition and at that time I could not believe that this girl was 13 years old! Here we are at the end of the season and I still can't believe that this girl is 13 years old! The voice that comes out her little body is so seasoned and so controlled and so much soul. Yes, I'd love to see her perform a song that goes with her young age, but this is her strength and Britney Spears wants to win and stuck with Carly's strengths. Check out Carly's performance here:
For her second song, we all heard the Top 3 would be singing duets tonight, so Carly Rose sang "How Do I Live" by LeAnn Rimes. Of course, she is joined by LeeAn on the stage and LeeAn looked and sounded rough. She was bad on her own song and sounded like she couldn't even hit some of the notes. Carly did start out on a bad note for the song, but kicked it in eventually. Check out the performance here:
For her last song, Carly Rose sang "Hallelujah" by Jeff Buckley. If I have not said it once, I will say it again. I want Carly to sing a song like she is 13 years old. Yes, she has an amazing voice, but can we act like she is not 40 and sing something more upbeat? Check out her last performance on The X Factor Season 2 here:
Would you vote for Carly Rose Sonenclar on The X Factor USA 2012?
Join us on RealityRewind.com for all your The X Factor USA Season 2 news, recaps, previews and predictions. Subscribe to our Email and RSS or like us on Facebook and follow us on Twitter for all our latest updates.
SHARE YOUR THOUGHTS! LEAVE A COMMENT NOW:
Commenting Rules:
Keep the conversation civil and on topic. If your comment does not add to the conversation or is insulting to others, it will be removed. Debate intelligently. No ALL-CAPS.