The X Factor USA 2012 Predictions: Finale Spoilers – Who Wins X Factor Tonight?
|
December 20, 2012 at 1:00 PM EDT
We are down to the Top 3 on The X Factor USA 2012 and they all sang their hearts out last night, but who wins The X Factor USA Season 2? That is a tough question to ask and I am literally not sure if it will be Tate Stevens, Carly Rose Sonenclar or Fifth Harmony that wins. The three acts all sang three songs last night on The X Factor 2012 Finale and we will get the results tonight on how America voted. Check out my The X Factor USA 2012 predictions and then come back tonight for my The X Factor USA Season 2 Finale Live Recap and find out with me who wins The X Factor Season 2!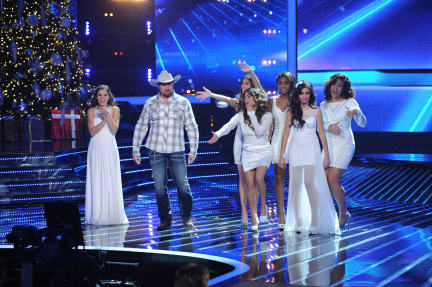 Last night the three acts all took on three songs: one was a song from sometime this season, they performed duets with Little Big Town, LeAnn Rimes and Demi Lovato and they sang one final song for that $5 million contract. To be honest, it was a night of mixed emotions for me. For me, Fifth Harmony sang two songs they have previously done and that just shows they are not ready to make an album. Yes singers and groups have hits that people love to listen to, but they have been together for like three months and aren't putting out a greatest hits album yet. Give me new music to prove yourself as a legitimate singing group and worthy of winning $5 million. Carly Rose sang great, but she did struggle during her duet with LeAnn Rimes. The same goes for Tate, who was a little off during his duet with Little Big Town.

As far picking a winner of The X Factor USA 2012, I am not sure what way it will go tonight. We didn't get the standings last week, so who knows where these three stood coming into the finale. Everyone counted Fifth Harmony out last week, but they came from the bottom and made it to the final three on X Factor Season 2. Will their fans carry them to the victory tonight? I am hoping not! It has been a battle between Carly and Tate all season long for that top spot and I think it will continue again tonight.
So, will Carly or Tate win tonight? I am going to go with Tate Stevens for the win on The X Factor USA Season 2. I love this man's story and the love he shows for his family and his wife. I think he can become a big country star, so I am rooting or him to win the $5 million contract. Yes, Carly Rose Sonenclar is good, but she is 13 years old and has a long career ahead of her and Simon Cowell will probably sign her to his label or even L.A. Reid. Simon has been all about Fifth Harmony all season, so expect them to be signed by Simon and they will be just fine as well.
What are your predictions for the winner of The X Factor Season 2 tonight? Am I right or way off?
Join us on RealityRewind.com for all your The X Factor Season 2 news, recaps, previews and predictions. Subscribe to our Email and RSS or like us on Facebook and follow us on Twitter for all our latest updates.
SHARE YOUR THOUGHTS! LEAVE A COMMENT NOW:
Commenting Rules:
Keep the conversation civil and on topic. If your comment does not add to the conversation or is insulting to others, it will be removed. Debate intelligently. No ALL-CAPS.