The X Factor USA 2012 Finale: One Direction Performs On X Factor USA (VIDEO)
|
December 20, 2012 at 11:42 PM EDT
We all know The X Factor USA 2012 had two hours of air time to fill tonight, so to help fill that time they welcomed back One Direction to perform on The X Factor USA Season 2 Finale! One Direction got their start on the U.K. version of The X Factor, but have made it big in the United States and were here earlier this season to perform on The X Factor Season 2, but they made their way back for the finale. Check out One Direction perform on The X Factor USA 2012 Finale below!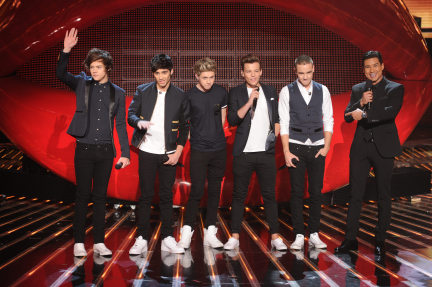 One Direction is a boy band that consists of Niall Horan, Zayn Malik, Liam Payne, Harry Styles and Louis Tomlinson. While they did not win The X Factor, Simon Cowell still snatched them up and signed them to his record label. They have had two successful albums and have made their transition to stars in America. The girls all scream for them and they have helped bring back the popularity of boy bands.

Tonight thy came back to The X Factor USA 2012 and performed their new single "Kiss You." I can guarantee that every girl in that audience (and some of the boys) were hoping, wishing and thinking that the boys were singing that song just to them. The one thing I can say about these boys, they know their target audience and every song is perfect for their fans to swoon over them! Tonight was not different and the audience was going crazy during their performance. You can see for yourself in the clip below of One Direction performing "Kiss You" on The X Factor USA Season 2:
Join us on RealityRewind.com for all your The X Factor USA 2012 news, recaps, previews and predictions. Subscribe to our Email and RSS or like us on Facebook and follow us on Twitter for all our latest updates.
SHARE YOUR THOUGHTS! LEAVE A COMMENT NOW:
Commenting Rules:
Keep the conversation civil and on topic. If your comment does not add to the conversation or is insulting to others, it will be removed. Debate intelligently. No ALL-CAPS.