The X Factor USA 2012 Finale Live Recap: The X Factor Season 2 Winner Is…
|
December 20, 2012 at 7:00 PM EDT
Three acts remain on The X Factor USA 2012 and we have to sit through two hours of performances tonight before we find out who won The X Factor USA Season 2! It is down to Fifth Harmony, Tate Stevens and Carly Rose Sonenclar and one of them will win a $5 million recording contract thanks to America's votes and Simon Cowell! I think it is going to be a close battle, someone has to win The X Factor 2012, so let's get this started. Come watch with me during my The X Factor USA 2012 Finale Live Recap and we can find out together who won The X Factor Season 2.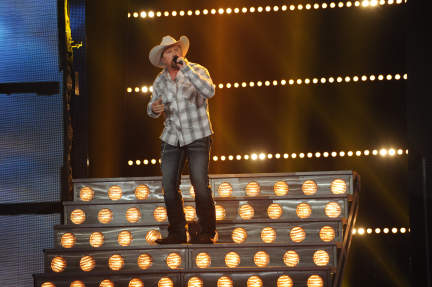 The Top 3 on The X Factor 2012 each sang three songs last night, with each of them singing duets with LeAnn Rimes, Little Big Town and Demi Lovato. It was an okay night of performances, but none of them seemed to blow me away with amazing performances. They were decent, but I expected more, especially since that was there final chance to prove that they deserved to win $5 million. If I was going for that amount of money, I'd leave it all on that stage and then a little bit more! Tonight we finally find out who won The X Factor USA Season 2, in what seems like a season that has kind gone on and on. It seems all season long it has been a battle between Tate and Carly, so I am ready to see which one of them will take home the title. Or will we see a huge upset and see Fifth Harmony win? Find out with me during my The X Factor USA 2012 Finale Live Recap and see One Direction and Pitbull perform! I'll be back at 8pm EST!
Things start with on the red carpet, as Mario Lopez and Khloe Kardashian welcome the judges in their limos and then Pitbull and One Direction. The moment is super awkward and no coordination and Harry Styles walked past the camera. Get it together FOX!
We are now inside and an even bigger entrance for the hosts and judges. I guess it is not all about the singer tonight? Now we go back to the red carpet to see the Top 3 arrive, as they arrive in limos while singing "All You Need Is Love." We are 11 minutes into the show and I am already over this. Anyone else?
The first of the Top 3 take the stage, as Tate Stevens performs a little Christmas ditty to get everyone in the spirit for the holidays! Then it is Fifth Harmony that takes the stage and sing their Christmas song. I am over this dragging out madness!
Carly gets her turn to sing and they actually have her sing "All I Want For Christmas Is You" and she is having fun and I like it. She is 13 everyone and finally showed it on The X Factor Season 2!
It is time to get the first results on The X Factor USA 2012, as we find out who finished in third place this season. The Top 3 take the stage with their mentors and we get to some results. The first act leaving us tonight is Fifth Harmony!!! I could not be happier because that means Tate or Carly will win. How do you feel?
We take a look back at some of the highlights from The X Factor Season 2, so it was nice to take a look back. It does seem like this season has gone on a while, hasn't it?
Time for Pitbull on The X Factor USA 2012, as he hits the stage to perform his new single "Don't Stop The Party." He is very entertaining, so this is fun to watch a nice little break before the results.
Now we hear the constant screams on The X Factor 2012, as One Direction performs "Kiss You" for all the girls out there. How many girls out there think they were singing this song to them?
Now taking the stage for the last time, Tate and Carly perform "The Climb" as a duet together. Both of these singers are amazing, so I wouldn't be mad if either won, but I am rooting for Tate to win! Who do you want?
They talk to the judges for a little bit and I wonder why they even talk to Britney Spears. She always says the same thing and says about three words. She disappoints me!
Here we go folks. The X Factor USA 2012 has come to an end and it is time to find out who won The X Factor USA Season 2. The winner is Tate Stevens! I am overjoyed! How do you like the results?
Join us tonight on RealityRewind.com for my The X Factor USA 2012 Finale LIVE recap. Let's see who won The X Factor USA Season 2 together! Subscribe to our Email and RSS or like us on Facebook and follow us on Twitter for all our latest updates.
SHARE YOUR THOUGHTS! LEAVE A COMMENT NOW:
Commenting Rules:
Keep the conversation civil and on topic. If your comment does not add to the conversation or is insulting to others, it will be removed. Debate intelligently. No ALL-CAPS.