The X Factor USA 2012: Emblem 3 Signs Recording Contract With Simon Cowell
|
January 9, 2013 at 10:41 AM EDT
I saw this one coming before the season even ended, but Simon Cowell has signed Emblem 3 of The X Factor USA 2012 to a recording contract. Wesley Stromberg, Keaton Stromberg and Drew Chadwick make up Emblem 3 and made it to the Top 4 on The X Factor USA Season 2 before they were shockingly eliminated in the semi-finals. Simon Cowell loves boy bands and it was inevitable that his record label would sign the group, which is now official. We can expect the album later this year from Emblem 3. When will Simon sign Fifth Harmony from The X Factor USA 2012?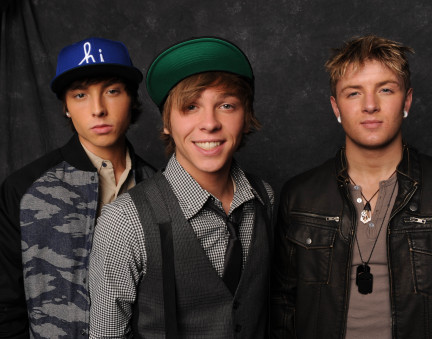 The Hollywood Reporter stated that Simon Cowel signed Emblem 3 to his Syco Music label via Columbia Records. The guys have already been working in the studio on the album, which is being produced by Savan Kotecha who has worked with One Direction, Usher and Maroon 5 and also serves as a vocal coach on The X Factor USA. Those are some pretty big names, so do you think this could actually be a pretty legit album for Emblem 3?

On the boys, Kotecha said: "I was so impressed by the talent and energy of the Emblem 3 boys that I had to work with them. I'm looking forward to helping them fulfill their creative vision and working with the amazing Syco and Columbia team who, in my opinion, are the best in the business."
We all know that Simon Cowell was rooting for a win for Emblem 3 on The X Factor 2012, but had to accept a fourth place finish for the boys. He is happy to be working with them again: "Wesley, Drew and Keaton are complete stars. They have a great attitude, are fun and genuinely love music. They deserve this and I'm really pleased we are continuing working together." They were touted as "E3" during the season, so an American version of One Direction now?
As far as the album goes, you can expect collaborations with Jack Antonoff (fun.), John Feldman (Gold Finger), Benji and Joel Madden (Good Charlotte) and many others. So, will you be buying an Emblem 3 album when it comes out?
Join us on RealityRewind.com for all your The X Factor USA 2012 news, recaps, previews and predictions. Subscribe to our Email and RSS or like us on Facebook and follow us on Twitter for all our latest updates.
SHARE YOUR THOUGHTS! LEAVE A COMMENT NOW:
Commenting Rules:
Keep the conversation civil and on topic. If your comment does not add to the conversation or is insulting to others, it will be removed. Debate intelligently. No ALL-CAPS.