The X Factor Season 2 Top 6: Diamond White Performances (VIDEO)
|
December 5, 2012 at 11:25 PM EDT
With The X Factor Season 2 down to the Top 6, the pressure is on for the remaining six acts. Tonight they took on two songs for The X Factor USA 2012, as they sang one performance chosen by the fans during the Pepsi Challenge. These songs, performances, clothes and everything were picked by the fans, so they should be happy! The second is an Unplugged song, where The X Factor 2012 Top 6 are stripped down and forced to just sing on The X Factor USA stage. Diamond White sang for survival last week, so she has to step it up tonight on The X Factor Season 2. Check out here performances below.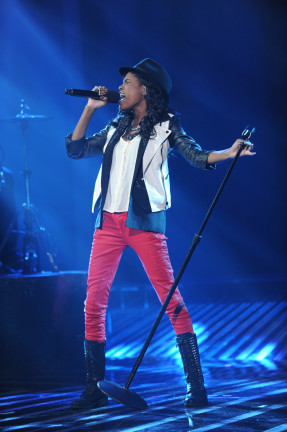 For her first song, Diamond White sang "It's A Man's Man's World" by James Brown. She may have sang this song earlier in the competition, but I still loved this performance. She had to bring her A-Game tonight after being in the bottom two last week and I think she nailed it. It was an excellent vocal performance and she is so strong for being only 13 years old. Check out the performance here:

The second song for Diamond White tonight was picked by America and they chose "Diamonds" by Rihanna. This one was too cliche for me. Her name, the song and she came to the stage in a diamond. The song is very popular right now and I am not a fan of it when they sing songs like this. She is no Rihanna and the vocals seemed rough for me. You can judge for yourself here:
Would you vote for Diamond White on The X Factor Season 2?
Join us on RealityRewind.com for all your The X Factor Season 2 news, recaps, previews and predictions. Subscribe to our Email and RSS or like us on Facebook and follow us on Twitter for all our latest updates.
SHARE YOUR THOUGHTS! LEAVE A COMMENT NOW:
Commenting Rules:
Keep the conversation civil and on topic. If your comment does not add to the conversation or is insulting to others, it will be removed. Debate intelligently. No ALL-CAPS.