The X Factor Season 2 Top 6: CeCe Frey Performances (VIDEO)
|
December 5, 2012 at 11:27 PM EDT
CeCe Frey has had one big rollercoaster of a ride on The X Factor Season 2. She has been in the bottom two most of The X Factor USA 2012, but has made the cut a couple times, The judges have saved her many times and now here she is in The X Factor 2012 Top 6. She sang two more songs tonight in hopes of winning over your votes and making The X Factor Season 2 Top 4. You can check out CeCe Frey perform below during The X Factor Season 2 Top 6 performances.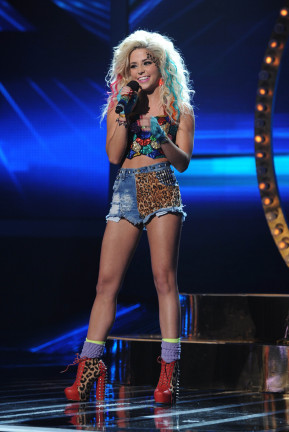 For the first song, CeCe Frey does an acoustic version of "Edge of Glory" by Lady Gaga. There was a time in this season that I did like CeCe and this was the reason why. I think she nails this performance and is a class act during it. She sounds great and I think it is good to just hear these singers sing and not have all the production going on around them on The X Factor Season 2. Check out her performance here:

The second song on The X Factor USA was chosen by America and it is "Part Of Me" by Katy Perry. CeCe has a little Katy Perry in her voice and that shows during this performance. She was very confident on the stage and had the sass that I used to hate, but then she lost during this competition. It was fun to watch and I am loving what CeCe did tonight. Anyone else? Check out her second performance on The X Factor 2012 right here:
Would you vote for CeCe Frey on The X Factor Season 2?
Join us on RealityRewind.com for all your The X Factor Season 2 news, recaps, previews and predictions. Subscribe to our Email and RSS or like us on Facebook and follow us on Twitter for all our latest updates.
SHARE YOUR THOUGHTS! LEAVE A COMMENT NOW:
Commenting Rules:
Keep the conversation civil and on topic. If your comment does not add to the conversation or is insulting to others, it will be removed. Debate intelligently. No ALL-CAPS.